iPad newspaper 'The Daily' axes a third of its staff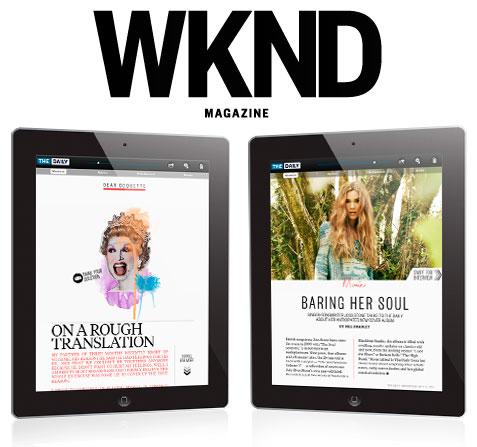 It was announced on Tuesday that "The Daily," media giant News Corp.'s foray into digital newspapers, will lay off 50 of its 170 employees as the embattled subscription-based publication fights to stay alive.
Citing people familiar with The Daily's plans, All Things D reports the expected job cuts come 18 months after the iPad newspaper's launch and will affect the digital publication's editorial and sports pages as well as other essential departments.
While the editorial section will be shut down completely, the sports section is seen as continuing albeit with minimal staff. According to a press release, The Daily will continue to run editorials and opinion pieces in the news section "from time to time as appropriate" while sports will be covered by content partners like Fox Sports. The paper's design and production departments will also suffer from the cuts.
The digital newspaper will shift its focus to "original reporting, strong visual elements, great photography and video, award-winning design, infographics, and interactivity," which reportedly bring the most traffic.
"These are important changes that will allow The Daily to be more nimble editorially and to focus on the elements that our readers have told us through their consumption that they like and want," said The Daily's Editor-in-Chief Jesse Angelo. "Unfortunately, these changes have forced us to make difficult decisions and to say goodbye to some colleagues who have worked hard to make The Daily successful. These moves were driven by the needs of the business."
Some design changes were also announced alongside the job cuts, including a switch to a portrait-only articles which the publication claims is the most popular orientation for reading. Video will still be viewable in landscape mode and special projects like "WKND" are expected to move continue.
The Daily will continue with value-added content like the 'WKND' special edition.
Source: The Daily
The Daily was created to help newspapers transition into the digital era dominated by tablet devices like Apple's iPad. News Corp. CEO Rupert Murdoch's team reportedly worked with Apple and its late CEO Steve Jobs to create an iPad-centric publication which would later be ported to Google's Android operating system.
The move to cut nearly one third of The Daily's workforce may be a result of News Corp.'s upcoming corporate split that will divide the company's news and entertainment entities into two separate companies.
Despite having over 100,000 paid iOS and Android subscribers, The Daily continues to hemorrhage cash and was reportedly put "on watch" earlier this month.