Tighter iTunes Twitter integration rumored to take place of Ping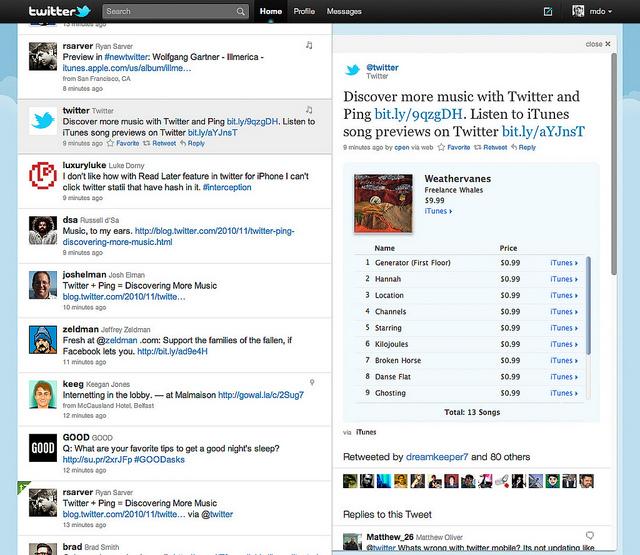 AppleInsider may earn an affiliate commission on purchases made through links on our site.
Coming on the heels of multiple claims of past Apple talks with Twitter, including old whispers of an investment in the company, a new report reveals the iPhone maker may be looking at using the micro-blogging service to fill the gap left by Ping when the service shuts down this year.
According to a Wall Street Journal report on Wednesday, Apple is continuing to find ways to expand Twitter's presence across its product line and sources say the next step may be a deeper "melding" of the service with iTunes.
The new information comes after a New York Times report saying Apple was in investment talks with Twitter, a claim ultimately refuted by the Journal as being year-old news. The two companies remain close partners, however, and are moving forward with plans to more tightly integrate Twitter into iTunes, sources say. Currently, Twitter's iTunes tie-in is limited to finding followed users on Ping.
It was reported in June that Apple will likely kill off its long-suffering music-minded Ping social network when the next iteration of iTunes is released later this year. During the D10 conference, Apple CEO Tim Cook hinted that Ping would be phased out but vowed to add more social networking functionality to the company's products like the recent addition of Facebook to iOS 6 and OS X Mountain Lion.
Screenshot of Twitter's Ping tie-in. Source: Twitter
Ping's death is not surprising given the service is largely unused relative to other social networking solutions. While initial adoption saw over one million users sign up within 48 hours, a slowdown prompted Apple to focus its efforts elsewhere.
"We tried Ping, and I think the customer voted and said 'This isn't something that I want to put a lot of energy into,'" Cook said.