Samsung 132-page 'copy cat' doc comparing Galaxy S with iPhone admitted into evidence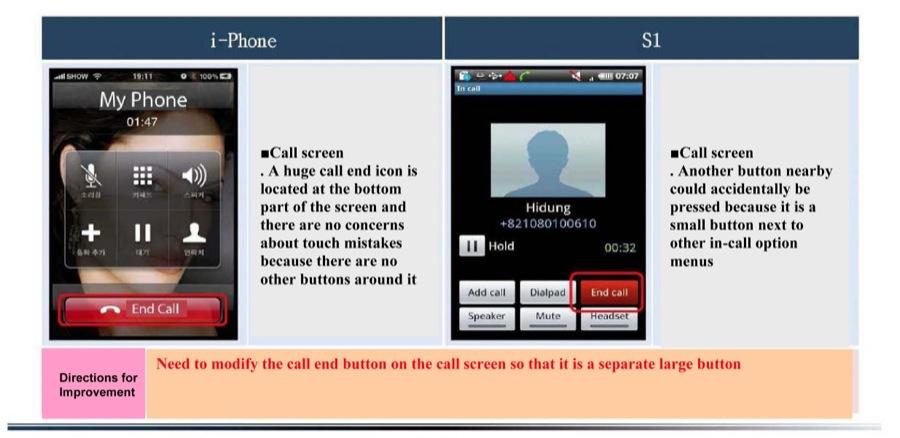 Apple was able to get a Samsung internal document admitted in full in its case against the South Korean company on Tuesday, with the report offering a potentially crucial comprehensive side-by-side comparison of the Galaxy S and the iPhone.
Sections of the 132-page document titled "Relative Evaluation Report on S1, iPhone" were shown during Friday's proceedings as an argument that Samsung willfully copied Apple's design patents, but the entire document wasn't admitted into evidence until Tuesday.
As reported by All Things D, the internal Samsung report was authored in 2010 by the company's engineering team which meticulously compares and contrasts the usability and design of the Galaxy S against the iPhone. Many of the results seem to be in favor of the iPhone's design implementation as Samsung's engineers offer solutions to make the Galaxy S UI operate more along the lines of iOS.
The methodical report first compares the two handsets, points out the differences and offers "Directions for improvement" which sometimes take the form of Apple's already-instituted solution. Everything from home screen icons to phone apps were studied, bringing comments ranging from fixing screen overlapping to filling empty spaces with a "loading" sign as seen in the soon-to-be defunct iOS YouTube app.

Source: Apple v. Samsung court documents
While the document itself is not a silver bullet for Apple, it does illustrate that Samsung was well aware of the iPhone's design assets and was actively comparing its own products to the handset. This does not prove that willful infringement took place, however it does at least offer a look into Samsung's operating mindset.
The Cupertino company must still prove that Samsung infringed on its asserted design patents and Tuesday's document, while powerful, is unlikely to seal the case on its own.