Apple takes nearly one-third U.S. smartphone marketshare, tops Samsung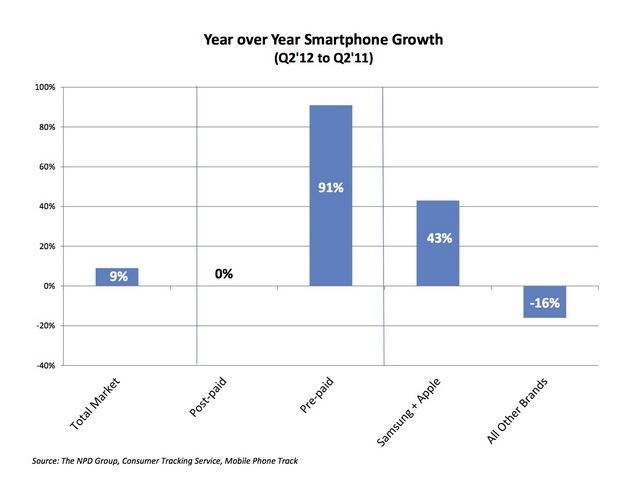 AppleInsider is supported by its audience and may earn commission as an Amazon Associate and affiliate partner on qualifying purchases. These affiliate partnerships do not influence our editorial content.
A new report released on Wednesday shows Apple and Samsung have all but run away with the U.S. smartphone market and despite having only three models up for offer, the iPhone has generated the most growth during the second quarter of 2012.
According to data from market research firm NPD, as of the end of quarter two Apple's iPhone garnered nearly one third of the U.S. smartphone market with 31 percent, while Samsung managed 24 percent over the same period.
The firm notes combined smartphone sales for Apple and Samsung rose 43 percent year-to-year while sales for other brands fell 16 percent.
Following the Galaxy maker in brand market share was HTC with 15 percent and Motorola with 12 percent. Rounding out the top five was LG's 6 percent marketshare.
Total smartphone unit sales rose nine percent in the second quarter, with all growth driven by pre-paid smartphone sales which rose 91 percent year-over-year. Post-paid growth, however, was stagnant.
"Prepaid smartphones are no longer just cheap, also-ran options, focused on older and less capable phones," said vice president of industry analysis at NPD Stephen Baker. "As the smartphone market matures, and as growth slows, carriers have been smart to aggressively market some of their best current smartphones on a pre-paid basis to a new set of customers, in order to keep sales humming along."
The firm's Mobile Phone Track service also found the income level of the average smartphone buyer is slowly shifting down from middle and upper-income households. At the end of the second quarter, 33 percent of smartphone buyers had an average household income of less than $35,000 per year, compared to 24 percent in 2011.
The downward penetration is likely to be a result of entry-level handsets like Apple's iPhone 3GS and the carry-over iPhone 4.
"By concentrating on their best, flagship devices, while at the same time supplementing their volumes with lower priced alternatives, both Apple and Samsung are extending their lead over the other smartphone makers," Baker said.