Court docs reveal Samsung sold 21M phones, 1.4M tablets worth $8B in US since 2010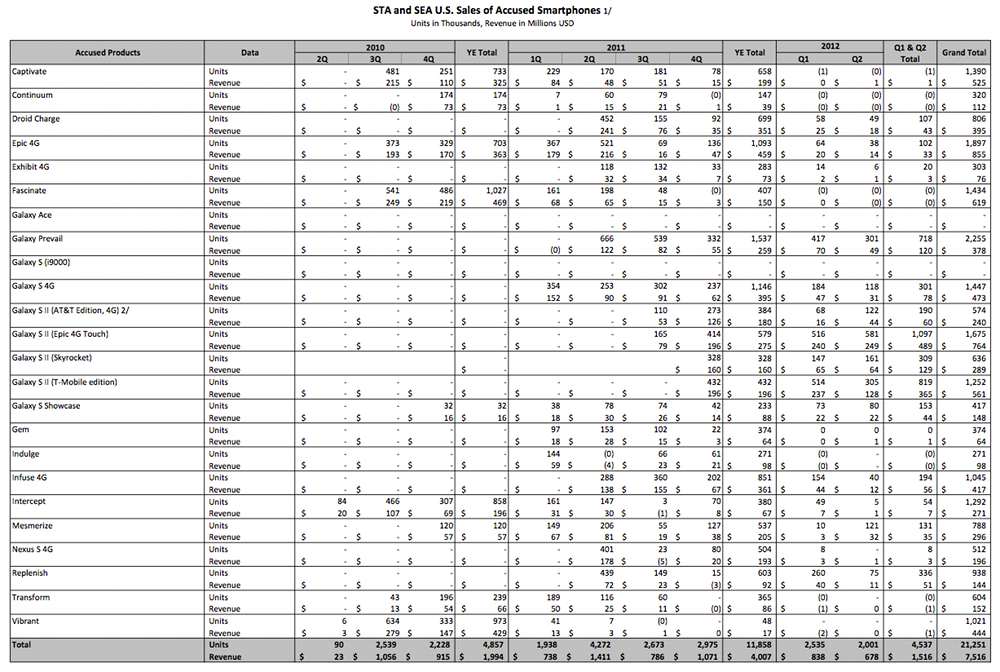 A court document filed by Samsung on Thursday revealed the company's smartphone and tablet sales numbers from June 2010 to June 2012, metrics that have been kept strictly confidential until now.
Apple v. Samsung presiding Judge Lucy Koh's order of an open trial, which previously yielded Apple iPhone and iPad prototypes, revealed detailed financials of both companies during the two-year span under review in the court case. Samsung's sales numbers are of particular interest given the company does not release specific figures in its quarterly reports.
The joint trial exhibit, first discovered by All Things D, shows Samsung sold 21.25 million smartphones between June 2010 and June 2012, generating revenue of about $7.5 billion. Among the top sellers was the Galaxy S II, which sold over 4.1 million copies, bringing in $1.85 billion and the Galaxy Prevail with 2.25 million unit sales.
The biggest individual seller, not including the Galaxy S II which was branded differently for the nation's various carriers, was the Epic 4G's revenue of $855 million on 1.89 million unit sales since the device went on sale in third quarter of 2010. Coming in second was the Epic 4G Touch, a Galaxy S II variant that went on sale a year after the Epic 4G, which sold 1.67 million units to bring in $764 million.
It should be noted that not all of Samsung's product lineup is represented in the figures, only those which are alleged as infringing Apple's patents.

Source: Apple v. Samsung court documents
Samsung's tablets, including the Galaxy Tab, Galaxy Tab 10.1 and Galaxy Tab 10.1 LTE, didn't perform nearly as well and managed to rack up only $644 million on 1.43 million sales since the fourth quarter of 2010. By contrast, Apple sold 34 million iPads on revenues of $19 billion since the first generation device launched in the third quarter of 2010.
While not as detailed as Samsung's, Apple's numbers were also revealed on Thursday and are broken into three categories: iPhone, iPad and iPod touch.
A number of internal documents from both parties have made their way to the public, including a recent Samsung side-by-side comparison of its Galaxy S smartphone and Apple's iPhone. Most recently, an internal report commissioned by Samsung revealed that over half of the viewers watching its TV commercials thought the ads were for Apple's iPad.
Apple v. Samsung is slated to continue on Friday with testimony from Apple expert witnesses.