First rumored photos of new Dock Connector plug for iPhone 5 show 8 pins [u]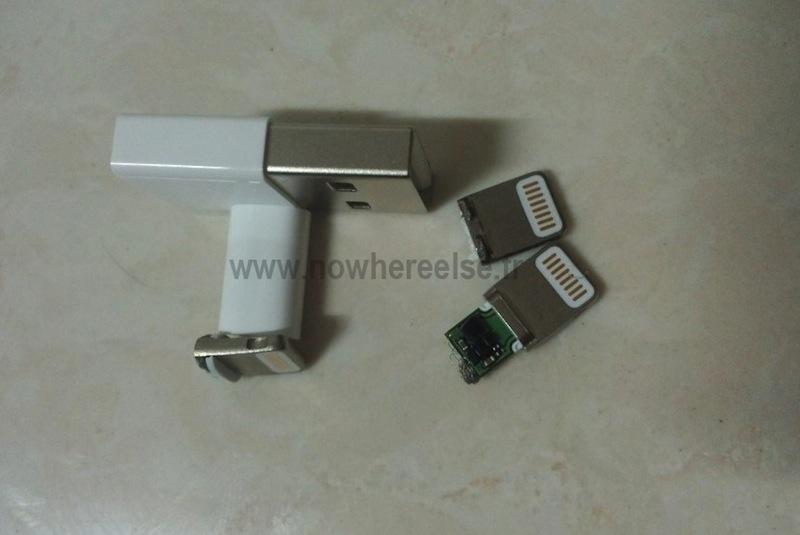 AppleInsider may earn an affiliate commission on purchases made through links on our site.
New photos claiming to capture Apple's revised Dock Connector (expected to be used on the upcoming iPhone 5) show a plug with 8 visible electrical contacts on one side.
Update: In a follow-up post, Nowhereelse.fr notes the purported dock connector actually has a total of 16 pins, 8 on each side, and will be implemented across future versions of Apple's iPhone and iPad product lines. The new connector may also make its way to the iPod line, but no evidence supporting such a change has surfaced.
According to photos published by French blog Nowherelse.fr, which appears to have sourced the images from a Chinese site, the new connector appears to be about half the width of a full sized USB connector.
The new plug is also substantially thinner and appears designed to work in either direction, ending the hassle of having to orient the plug in the correct direction when attaching a cable (an issue with both USB and Apple's existing Dock Connector cables).
Apple similarly redesigned the power connectors on its MacBooks to function in either direction, while using a magnetic quick-release mechanism the company branded as "MagSafe."
Previous reports, including one by TechCrunch and a second by Reuters, claimed the upcoming new iPhone would replace the existing 30-pin connector with a smaller 19-pin port.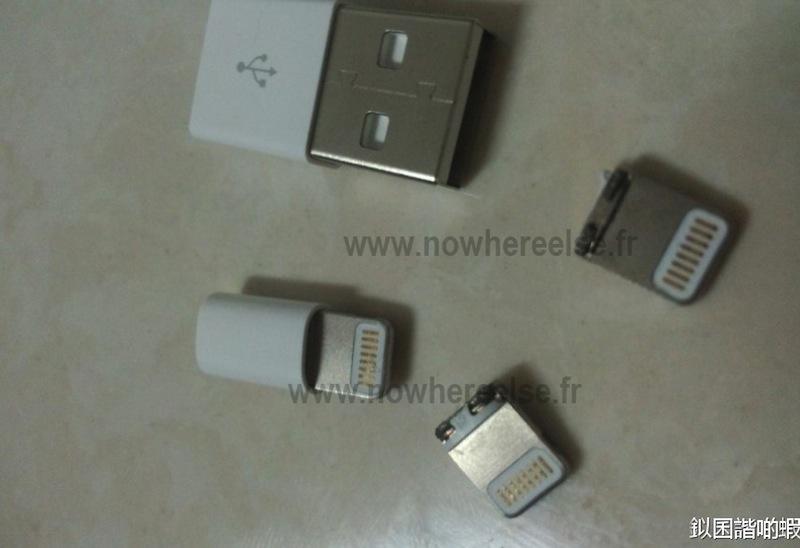 Apple's new Dock Connectors for iOS devices could supply unique or redundant contacts on both sides of the plug, enabling either more connections or a physically simpler, easy-to-orient connector.
Apple's 20-pin Thunderbolt port has a somewhat similar electrical contact design, but supplies 10 unique pins on each side, requiring cables to be inserted in one direction. The plug uses a keyed external plug shape however, unlike full sized USB plugs that have a simple, symmetrical rectangular shape.
Apple's original 30-pin Dock Connector, which has been in use since the third generation iPod appeared in 2003, was originally designed to supply pins for both FireWire (enabling fast sync with Macs) and USB 1.0 (providing slower sync but compatibility with PCs), as well supplying analog audio output and control signals.
The company later added support for audio input, composite and component video outputs, and later HDMI output for new iOS devices as the feature set of iPod, iPhone and iPad evolved, in some cases changing the pin-out assignments to assign new uses.
In dramatically scaling back the number of pins available on the new Dock Connector design, Apple could be relying upon AirPlay to deliver media via wireless networking.