Apple patent lets users switch away from broadcast commercials automatically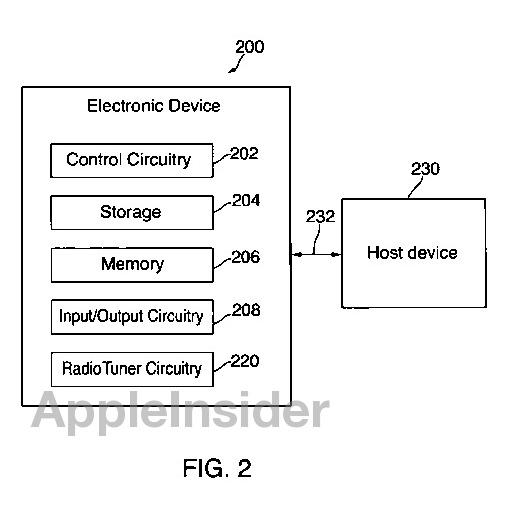 AppleInsider may earn an affiliate commission on purchases made through links on our site.
Apple on Tuesday was granted a patent that allows users to skip unwanted audio and video broadcast segments such as commercials with on-device content like songs, podcasts or other media, possibly hinting at technology headed to the battle for the living room.
Apple's aptly titled U.S. Patent No. 8,249,497 for "Seamless switching between radio and local media" describes a system in which a mobile device will automatically switch between broadcast content and stored media to offer the user a type of customized content consumption experience.
With the new patent, a device will allow a user listening to content from a radio station or "non-radio media or content sources" to skip past the sections they aren't interested in, filling the gap with on-board media instead. Also of interest is that commercials are among the types of content which can be replaced by stored media.
Covered under the invention's umbrella are broadcasts from a "radio stream provided over any communications network," while the stored media can include content saved in a device's memory or from a streaming host device.
Drawing illustrating the patent's portable device. | Source: USPTO
From the patent background:
A user, however, may not be interested in every media item provided as part of a broadcast stream. For example, a user may not like a particular song broadcast by a radio station, or may not like a particular segment of a talk radio station (e.g., the user does not like the topic or guest of the segment). As another example, a user may not be interested in content originally generated by sources other than the media source (e.g., advertisement content). Because the user has no control over the media broadcast, the user can typically only tune to a different media broadcast, or listen to or consume the broadcast content that is not of interest.
By using metadata from assets like Radio Data System (RDS) data, broadcast listings or published third-party schedules, a device can "determine when an upcoming broadcast segment or media item is not of interest to the user." When such an event is detected, the device will seamlessly switch to stored media until the unwanted content is completed. Also included as methods of discerning what a user may or may not want to consume are analysis of audio or video from the source, akin to current iOS apps Shazam or IntoNow.
As far as calculating what a user likes or dislikes, the patent employs comparisons of media items to generate a preference profile, much like the system in place with apps like Pandora. For example, a user can "like" or "dislike" a song and the corresponding metadata will then be included in their preference profile. In another embodiment, the device can keep track of a user's content consumption habits and make guesses as to what they would like in their preference profile. The metadata can be specific media items, such as artists, songs and genres, as well as specific types of media.
After the system identifies that an upcoming segment is outside of the preference profile's parameters, the device can look for an appropriate replacement from stored media to play instead. The patent notes that a "relevance algorithm" can be used to keep the stored media in line with content from the broadcast stream. To keep the experience consistent, the device can either monitor the broadcast stream to choose an opportune time to switch away from stored media playback, or buffer the broadcast stream for later consumption.
Of particular note is how the patent describes "media":
As used in this application, the term media item will be understood to include any audio or video that can be broadcast by a content source and received by an electronic device for playback. For example, a media item can include music (e.g., a song), a talk show segment, an advertisement, news programming, a podcast, videos, or any other media content that may be provided to a user.
Seemingly, Apple is proposing a way to not only transform radio listening, but also television broadcasts. While not specifically noted in the patent and mentioned here only for purposes of discussion, the system could be tweaked for cable which would lend itself nicely to the set-top box Apple is rumored to be shopping around to U.S. providers. Insiders say the cloud-based device is meant to blur the line between live and on-demand television.