Genius training manual details banned words for Apple employees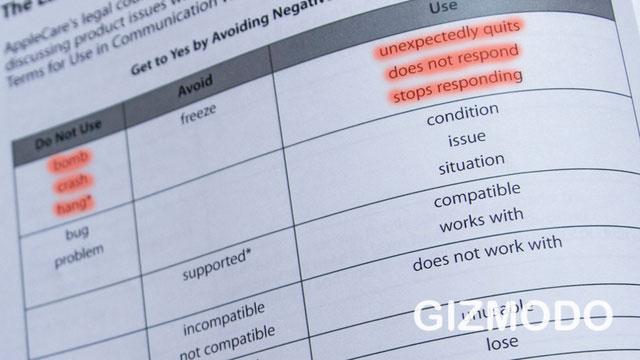 AppleInsider may earn an affiliate commission on purchases made through links on our site.
Details from Apple's training manual for Genius Bar employees have been published online, revealing how the company teaches its workers to read customer body language, and how words like "crash" and "hang" are not to be used.
The company's confidential information was published on Tuesday by Gizmodo, which referred to the employee workbook as "psychological training" designed to ensure that customers are happy. In particular, Apple Geniuses are told to focus on empathizing with customers and employ what are called the "three Fs:" feel, felt and found.
In one example, Geniuses are told how to respond to a customer who feels a Mac may be too expensive for them. The employee is advised to employ the three Fs, saying "I can see how you'd feel this way. I felt the price was a little high, but I found it's a real value because of all the built-in software and capabilities."
Also included in the employee manual is a list of things Geniuses are not allowed to say. Geniuses can say that an application "unexpectedly quits" or "does not respond," but are not allowed to say that the software "crashed." Similarly, there can be a "condition," an "issue" or a "situation," but not a "bug" or a "problem."
The purpose of the strategy is not only to make the customer feel good, but also has legal justification. The manual states that AppleCare legal counsel has defined certain terms that "should be avoided when discussing product issues with customers."
The handbook also gives Genius employees a basic understanding of human body language. Users who are frustrated may have tightly clenched fists or may kick at the ground, while a more accepting customer may move in closer to speak.
Publication of the manual comes as a new survey has found that Apple's highly regarded customer support and technical assistance personnel helps to drive sales of the company's products. A poll conducted by the NPD Group found that nearly 60 percent of Apple customers said they are more likely to purchase another product from the company following their experience with the company's technical support.