Apple believed to be subsidizing wage increases at Foxconn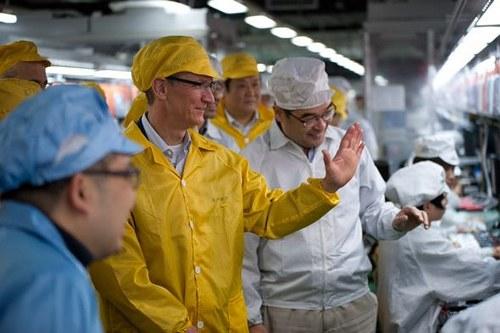 After gross margins rebounded at Foxconn parent company Hon Hai Precision, one analyst has said he believes Apple "stepped up" and helped to pay for wage increases at its manufacturing partner.
While Hon Hai's gross margins went up, Apple saw its own gross margins drop from 47 percent last quarter to 42.8 percent this quarter. Its conservative guidance for the current September quarter goes even lower to 38.5 percent.
Analyst Adnaan Ahmad with Berenberg Bank said in a note to investors provided to AppleInsider on Monday that he believes the changes in gross margins at both companies signal that Apple probably played a major part in wage increases at Foxconn.
Ahmad noted that Hon Hai indicated this quarter that it was trying to get better terms from some of its customers, after labor costs increased by as much as 100 percent.
Apple's capital expenditures ballooned from $440 million in the December 2011 quarter to $2.1 billion in the June quarter. But those expenses were not related to Apple's plans to expand its corporate campus, Ahmad said, as the company recognized those costs in 2010.
While Ahmad believes Apple likely subsidized some of the wage costs at Hon Hai, the analyst is "fairly sure" that two other large Foxconn customers — HP and Sony — didn't contribute, given the current "precarious situation" both technology companies find themselves in.
Apple CEO Tim Cook touring an iPhone production line at a Foxconn plant in Zhengzhou, China.
Foxconn Chief Executive Terry Gou revealed earlier this year that his company and Apple would be sharing the costs to improve labor conditions at the Chinese factories were devices like the iPhone and iPad are assembled. But the executive did not detail how much Foxconn or Apple would be spending to improve working conditions, or how those costs would be split.
Foxconn has been facing criticism for years as some have referred to the electronics maker as a "sweatshop" where employees work long hours for little pay. The company has worked to improve its image, and Apple has encouraged those changes with a series of audits, including new independent reviews from the Fair Labor Association.
In March the FLA announced it had found a number of violations at Foxconn, after auditing its facilities at the request of Apple. Foxconn responded by reducing employee working times and addressing various code violations.
And last month, a new report from the FLA suggested labor conditions at Foxconn have improved since the audits conducted earlier this year.. The association announced that Foxconn had corrected some 284 infractions, including steps taken to create a safer workplace.