Potential 'iPhone 5' supply constraints seen as positive for Apple stock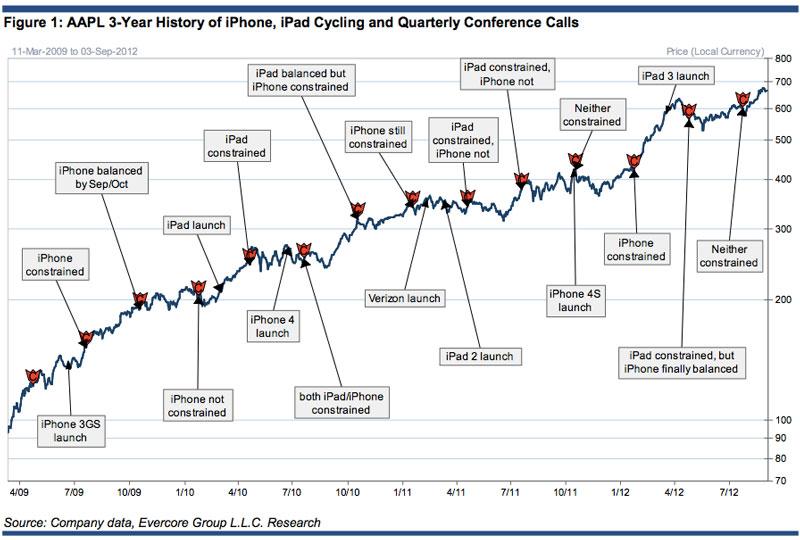 Rumored supply issues may limit availability of the new iPhone at launch, but a new analysis has found that severe constraints have actually been a boon to Apple's stock price.
Analyst Rob Cihra with Evercore Partners found that over the last three years, AAPL stock has performed 2.2 times better in a quarter after the company noted that iPhone supply was constrained. The stock also performed 1.2 times better in a quarter after management noted supply of the iPad was constrained.
And in the June 2010 quarter where both the iPhone and iPad were noted as constrained by Apple executives, the company's stock price grew 26 percent over the following three months.
In contrast, in October of 2011, Apple did not report that either the iPhone or iPad were constrained, and the stock saw 0 percent appreciation over the next three months.
Cihra speculated that AAPL stock has performed better when products are constrained because investors recognize customers will wait for a unique Apple product rather than simply buying a competitor's alternative. He also said if supply exceeds demand, it enables investors to imagine what numbers could have been if Apple had been able to meet supply.
Cihra has forecast sales of 24 million iPhones in the September quarter, which would represent 39 percent year over year growth. He sees potential for a few million units on the upside, but is looking forward to a blockbuster quarter to follow in December.
For the holiday quarter, Cihra has forecast sales of 49 million iPhones, which would be a new record for the company. Even with that many sold, he still believes demand will far outstrip early supply.
Specifically, he believes Apple's anticipated migration to new in-cell touch panels for the next iPhone could limit supply. And supply is also expected to lag demand for 28-nanometer basebands from Qualcomm until at least December.
Evercore Partners has increased its price target for AAPL stock to $800, up from its previous forecast of $750. It has maintained its "overweight" rating for the company.