AT&T expands 4G LTE coverage to 9 new markets, 44 more coming in 2012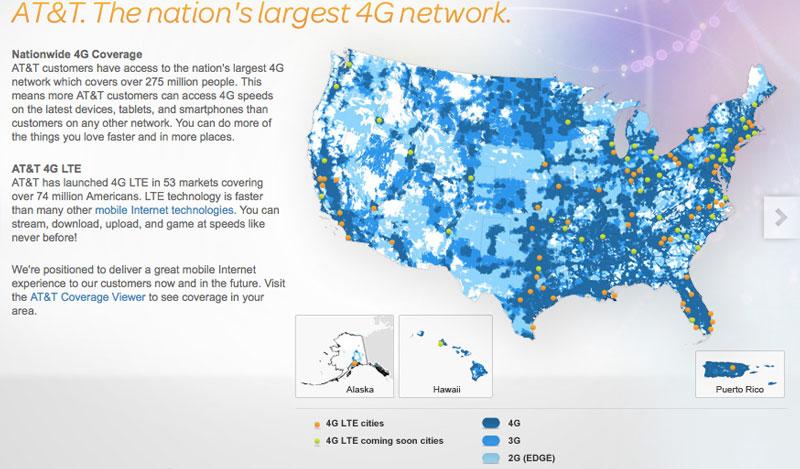 AT&T on Thursday announced it has expanded its high-speed 4G long-term evolution coverage into 9 new areas of the U.S., with 44 more markets coming before the end of 2012.
AT&T's massive expansion of its 4G LTE network comes as Apple is expected to introduce its next-generation iPhone at a media event next Wednesday. Currently, the third-generation iPad is Apple's only 4G LTE device, but it's anticipated that the company's next iPhone will also be compatible with the latest high-speed cellular networks.
The nation's second-largest wireless carrier, AT&T, has boasted that its 4G LTE network is capable of delivering mobile Internet speeds up to 10 times faster than 3G. The company has invested more than $115 billion into operations and acquiring spectrum and other assets enhancing its wireless and wired networks over the last five years.
As of Thursday, AT&T's 4G LTE network is now available in:
Anchorage, Alaska
Bakersfield, Calif.
Bridgeport, Conn.
Jacksonville, Fla.
Modesto, Calif.
North Montgomery County, Md.
Northern New Jersey
Omaha, Neb.
Syracuse, N.Y.
The company also sent out a flurry of press releases on Thursday, revealing that its 4G LTE network will launch in the following markets before the end of the year:
Albany, N.Y.
Albuquerque, N.M.
Allentown, Penn.
Birmingham, Ala.
Boise, Idaho
Charleston, S.C.
Cincinnati, Ohio
Columbia, S.C.
Columbus, Ohio
Detroit, Mich.
Denver-Boulder, Colo.
El Paso, Tex.
Fayetteville, N.C.
Ft. Myers, Fla.
Gary, Ind.
Grand Rapids, Mich.
Green Bay, Wis.
Harrisburg, Pa.
Hartford, Conn.
Hawaii
Knoxville, Tenn.
Lancaster, Pa.
Little Rock, Ark.
Louisville, Ken.
Milwaukee, Wis.
Minneapolis-St. Paul, Minn.
Memphis, Tenn.
Nashua, N.H.
New Haven, Conn.
Philadelphia, Penn.
Pittsburgh, Penn.
Portland, Ore.
Providence, R.I.
Reading, Pa.
Rochester, N.Y.
Sacramento, Calif.
Salinas-Seaside-Monterey, Calif.
Seattle, Wash.
Springfield, Mass.
Toledo, Ohio
Tucson, Ariz.
Tulsa, Okla.
Wilkes-Barre, Penn.
Wilmington, Del.
There is a distinction between AT&T's HSDPA network, which it began advertising as "4G" to iPhone 4S users starting with iOS 5.1, and the carrier's "true" 4G LTE network currently rolling out. The iPhone 4S is capable of 4G-like speeds thanks to AT&T's HSDPA network, however it is not a true fourth-generation network.
The change has allowed AT&T to further differentiate itself from competitors Verizon and Sprint, both of which carry the iPhone but run CDMA networks with slower 3G speeds.
Apple has addressed this distinction by displaying a connection symbol of "LTE" in the upper left corner of the iPad when connected to a 4G LTE network. iPhone 4S owners connected to AT&T's HSDPA network still receive a "4G" indicator on their device.