'It's almost here:' Apple announces 'iPhone 5' event for Sept. 12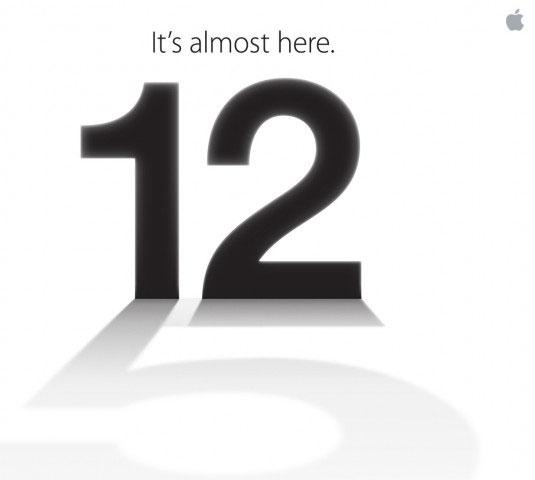 Apple on Tuesday sent out invitations to members of the press, officially announcing it will hold an event next Wednesday, Sept. 12, where it is expected to introduce its next-generation iPhone.
The invitations sent out read "It's almost here," with a large number 12. Below the date of the event is a shadow cast with a number "5," implying the unveiling of Apple's next-generation iPhone, the successor to the iPhone 4S.
The event will be held next Wednesday at 10 a.m. Pacific, 1 p.m. Eastern at the Yerba Buena Center for the Arts in San Francisco, Calif. AppleInsider will have full, live coverage.
Word first surfaced in July that Apple was planning to hold a special event on Sept. 12 to unveil its next-generation iPhone. It's expected that the new handset will go on sale just over a week later, on Sept. 21.
The new iPhone is expected to be a completely redesigned handset with a larger 4-inch screen. Numerous leaked parts have shown a device with a slightly taller display, as well as a two-toned metal back.
Leaked parts have also shown that the new device will retain the hardware home screen button that has been on every iPhone to date, while the forward-facing FaceTime camera will be centered above the earpiece. The parts have also shown that the headphone jack will be moved to the bottom of the device, while the next-generation iPhone is also expected to feature a smaller 9-pin dock connector.
Apple's special event invitations sent out on Wednesday hint at the iPhone 5. Image via The Loop.
Though the device is not expected to feature a near-field communications chip for e-wallet functionality, it will presumably run Apple's next-generation iOS 6 operating system with the new Passbook application, which will serve as a digital wallet with event tickets, boarding passes, store cards and more.
Preorders of the new iPhone are expected to begin the same day the handset is unveiled next week. The list of launch countries for the iPhone 4S last year included the U.S., U.K., Canada, France, Germany, Japan and Australia, while other international markets followed soon after.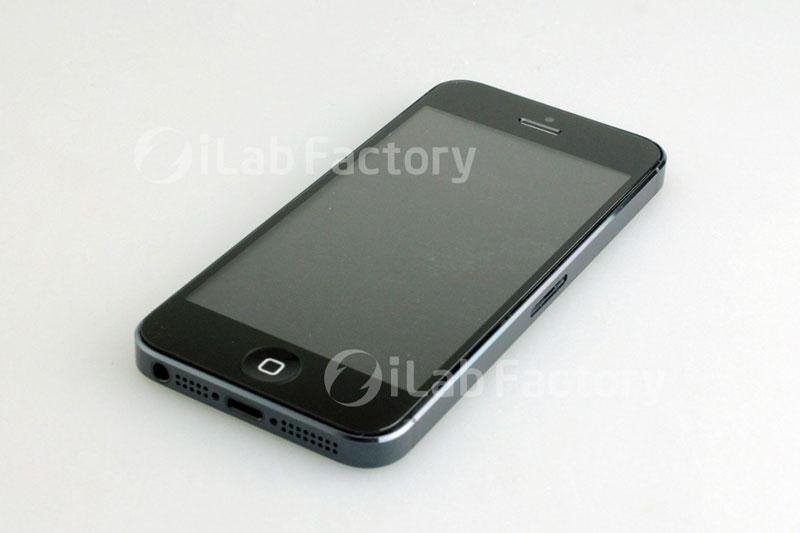 Though last year's iPhone 4S was the fastest roll-out ever, this year Apple could potentially face more constraints of the so-called iPhone 5. Last week, The Wall Street Journal reported that one of Apple's major LCD suppliers, Sharp, had not yet begun shipping displays for Apple's next iPhone because of "manufacturing difficulties." That and other reports have prompted speculation that availability of the new iPhone could be limited at launch.
While the new iPhone is expected to be unveiled next week, rumors have suggested the unveiling will be only the start of a big fall product lineup for Apple. One report last month from All Things D "confirmed" that the company is also planning to hold an event in October to introduce a new, smaller iPad with a 7.85-inch display.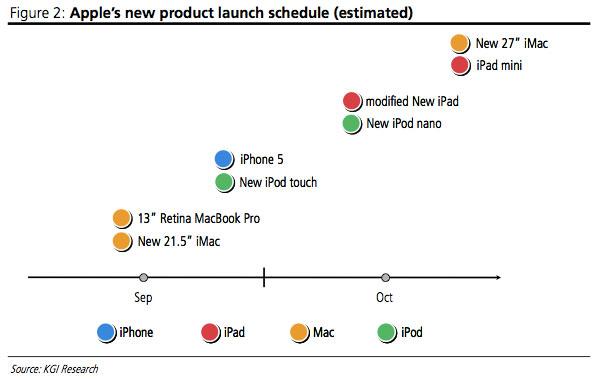 In fact, the iPhone 5 and so-called iPad mini are said to be just two of eight new products that Apple has planned for the holiday 2012 shopping season. The company is also expected to launch a new 13-inch MacBook Pro with Retina display, a new iPod touch with a larger 4-inch screen, a redesigned iPod nano with Wi-Fi connectivity and iTunes access, two new iMac models in the 21.5- and 27-inch class sizes, and even a tweaked third-generation iPad with the new, smaller dock connector that will be found on the next iPhone.