Apple tops JD Power rankings for tablet customer satisfaction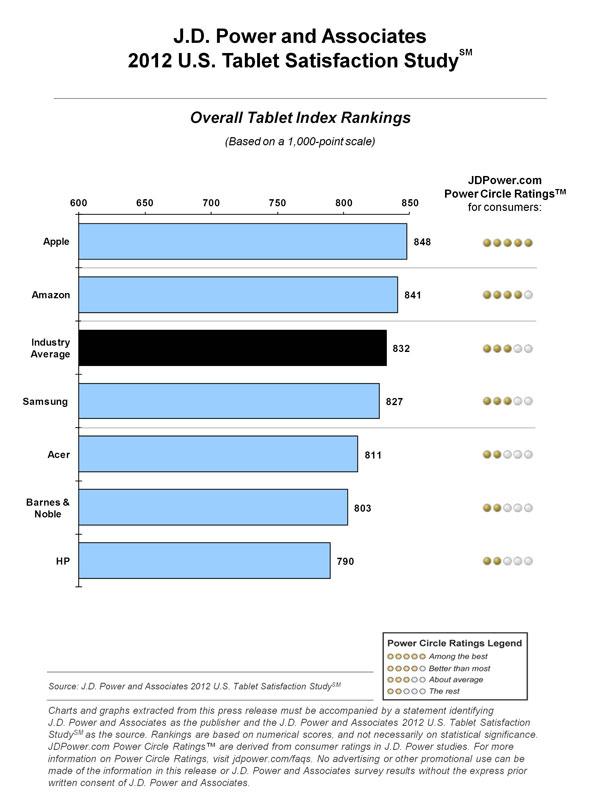 The latest J.D. Power and Associates survey of tablet owners found that Apple leads the market in customer satisfaction.
The results of the survey, detailed on Thursday by the consumer advocacy group, gave Apple a score of 848 based on what respondents indicated. Apple was said to perform well in four factors: performance, ease of operation, styling and design, and features.
Apple's score earned it five out of five on J.D. Power's Power Circle Ratings scale, ranking the company as "among the best." The tablet industry average score was 832, and three out of five circles.
Apple's score put it ahead of second-place Amazon, maker of the Kindle Fire tablet. Amazon earned a score of 841 and four out of five circles, and was said to rank highly with customers for its low pricing.
All of the remaining companies came in below the industry average, starting with Samsung, which customers graded with a score of 827 out of 1,000. It earned three out of five circles.
The bottom tablet companies were Acer (811, two circles), Barnes & Noble (803, two circles) and HP, which was behind the now-defunct TouchPad (790, 2 circles).
The survey found that tablet owners who have a smartphone spend 40 percent more time browsing the Internet on their tablet than on their smartphone. They also spend 56 percent more time using gaming applications.
In addition, 25 percent of owners indicated they use their tablet for business purposes. Another one-third said they are likely to buy a new tablet within 12 months.
Among tablet owners who considered themselves to be highly satisfied and rated their device 10 out of 10, 90 percent said they are likely to purchase another consumer electronics device from the same manufacturer. And 61 percent of tablet owners said they share their device with at least one other person.