Apple's Lightning port adaptors sell out, shipments pushed back 2-3 weeks
Just half an hour after the iPhone 5 went up for pre-order, USB adaptors for Apple's new Lightning port sold out, forcing users with compatible accessories to wait until new shipments arrive in October.
Both versions of Apple's new Lightning to 30-pin adaptor are already quoted to ship in October, but the Lightning to USB adaptor saw shipments slip to two to three weeks within 30 minutes of Apple initiating iPhone 5 pre-orders on Friday.
Currently, there are three adaptor models available in the U.S., a $39 version with a 0.2-meter cable and a $29 unit that resembles an oversized 30-pin plug and the regular Lightning to USB adaptor that runs for $19.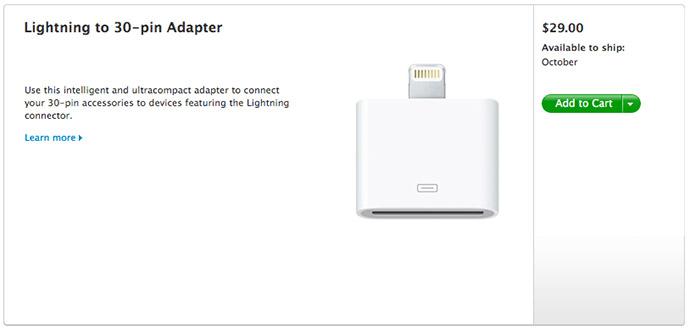 Apple unveiled the smaller 9-pin Lightning connector alongside the iPhone 5 at a special event on Wednesday, with the new plug said to be a necessity in building thinner iDevices. The proprietary part is 80 percent smaller than the legacy 30-pin connector it replaces, is all-digital and can be plugged into compatible devices in any orientation.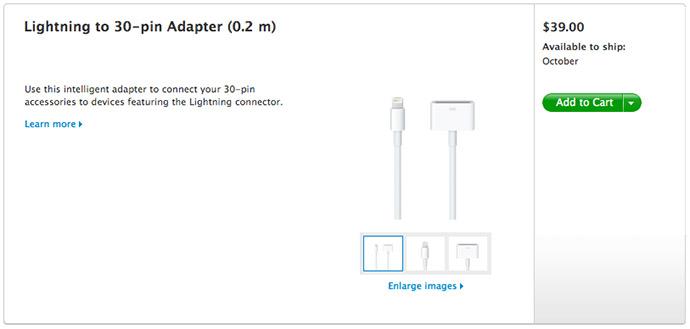 The Lightning to USB adaptor may be available in brick-and-mortar Apple Stores, though the stock allotted to each location is not known.