Apple A6 SoC 'confirmed' to leverage 1GB of RAM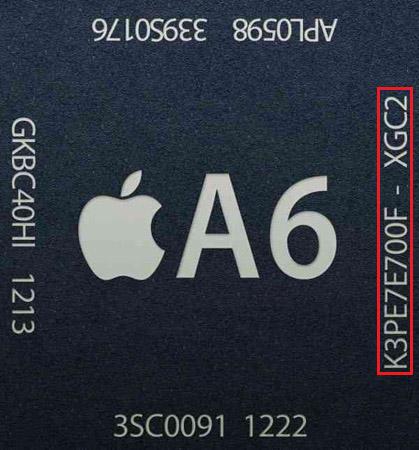 AppleInsider may earn an affiliate commission on purchases made through links on our site.
Slides of Apple's A6 chip presented at the company's iPhone 5 debut event on Wednesday reveal the processor likely holds 1GB of RAM, double the amount found in the legacy iPhone 4 and 4S handsets.
As noted by AnandTech, the unobscured parts numbers seen on the chip point to a Samsung DRAM component which boasts 1GB of addressable RAM.
The part number emblazoned on the A6 is K3PE7E700F-XGC2 which, according to Samsung's 2012 product guide is a package-stacked DRAM module. This is in line with Apple's A-series SoCs, which implement a package-on-package design to save space.
Breaking down the part number, "K3P" points to a dual-channel LPDDR2 package with 32-bit channels, while the "E7E7" designation denotes the 512MB density of each DRAM die, which comes out to a total of 1GB of RAM. Finally, the "C2" yields the part's 1066MHz cycle time/data rate.
The publication notes the new package should give the A6 a 33 percent boost in peak memory bandwidth compared to the iPhone 4S.
It was recently speculated that the new A6 processor could hold the company's first custom-designed CPU core, a departure from previous A-series SoCs which relied solely on ARM's patented technology.