Review Roundup: iPhone 5 surprisingly light, battery life impresses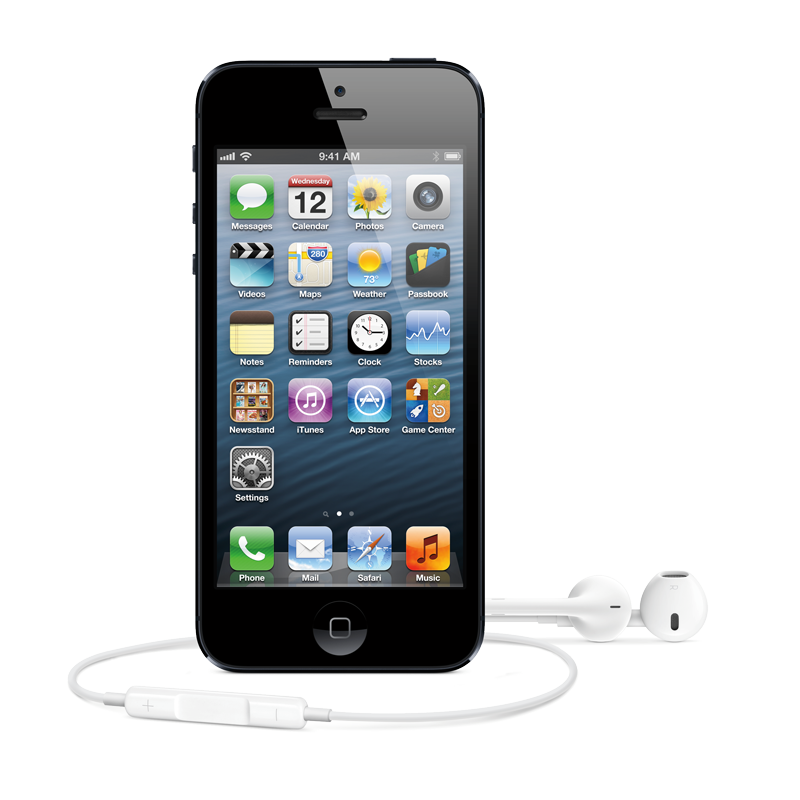 The first reviews of Apple's iPhone 5 hit the web on Tuesday and most major publications feel the new handset meets expectations with a larger 4-inch display and fast LTE data speeds. Some reviewers had a few quibbles, however, including Apple's move to the new Lightning connector and the letterboxing of existing iOS apps.
Arguably one of the world's most influential tech journalists, Walt Mossberg, was generally pleased with the iPhone 5, noting that "despite a few negatives" he still considers Apple's handset to be "the best smartphone on the market."
"The world's most popular smartphone becomes significantly faster, thinner and lighter this week, while gaining a larger, 4-inch screen—all without giving up battery life, comfort in the hand and high-quality construction," Mossberg writes as a brief summary of his extensive review.
While the 4-inch display may not satisfy users looking for "gargantuan" screens, he found the form factor easier to use than smartphone rivals like the Galaxy S III.
The iPhone 5's design is also a plus, and the 20 percent reduction in weight is noticeable from the moment a user picks up the device. While the design is not a complete overhaul of the iPhone 4S, the use of metal and glass prove to be pleasing and provides for the usual solid feel users have come to expect from an iPhone.
"Like many Apple products, it's gorgeous," Mossberg quips.
One point of contention regarding the new handset's design is the implementation of Lightning, the new dock connector Apple said was a requirement for making a device so thin. The change is not insignificant for consumers as an adapter is needed to use various accessories made fort the legacy 30-pin dock, possibly adding to the cost of owning the new iPhone 5.
Battery life appears to not be affected by the inclusion of 4G LTE, Mossberg notes, as the journalist managed to squeeze between 9 to 12 hours between charges. On Verizon's LTE network in Silicon Valley and Washington, D.C., he averaged 26 megabits per second for downloads and nearly 13 megabits per second for uploads. Peak download speeds hit 42 Mb/s, ten times faster than Mossberg's iPhone 4S running on 3G. Perhaps most importantly, the phone didn't drop any calls.
Not much was made of the phone's camera besides a notation that it performed better than the iPhone 4S in low-light situations.
Some of the features in Apple's iOS 6 were the main complaints for Mossberg, especially the new Maps app. Apple ditched Google Maps in favor of its own proprietary solution, effectively removing Google-only features such as Street View and public-transit routes. While Maps does feature its own 3-D Flyover view, only certain major metropolitan cities will be supported when the OS launches. As a replacement for the defunct features, Apple links to third-party apps.
The additional features built into Siri worked as promised, and Mossberg made special note that FaceTime works as well over Verizon's 4G cellular network as it does on Wi-Fi.
As for miscellaneous features like NFC and face recognition, Mossberg regards such niceties as "either little-used or unperfected." He goes on to say "I'd bet most users won't care about them, at least in their current state."
Apple has taken an already great product and made it better, overall. Consumers who prefer huge screens or certain marginal features have plenty of other choices, but the iPhone 5 is an excellent choice.
NYT tech writer David Pogue starts off his review by breaking down the three tenets that have made Apple's iPhone a success:
First, design. A single company, known for its obsession over details, produces both the hardware and the software. The result is a single, coherently designed whole.
Second, superior components. As the world's largest tech company, Apple can call the shots with its part suppliers. It can often incorporate new technologies — scratch-resistant Gorilla glass, say, or the supersharp Retina screen — before its rivals can.
Third, compatibility. The iPhone's ubiquity has led to a universe of accessories that fit it. Walk into a hotel room, and there's probably an iPhone connector built into the alarm clock.
It is with the third component that Pogue takes issue, calling Apple's Lightning connector's need for pricey adapters "not just a slap in the face to loyal customers — it's a jab in the eye." He goes on to say the company gave away a competetive advantage with the change as the vast 30-pin compatible ecosystem is effectively broken for those who don't want to hassle with the new connector. He does mention, however, that the plug itself is well made and sturdy.
Pogue also takes note of the new dimensions, pointing out the substantial reductions made to the phone's thickness and weight.
"This iPhone is so light, tall and flat, it's well on its way to becoming a bookmark," Pogue writes.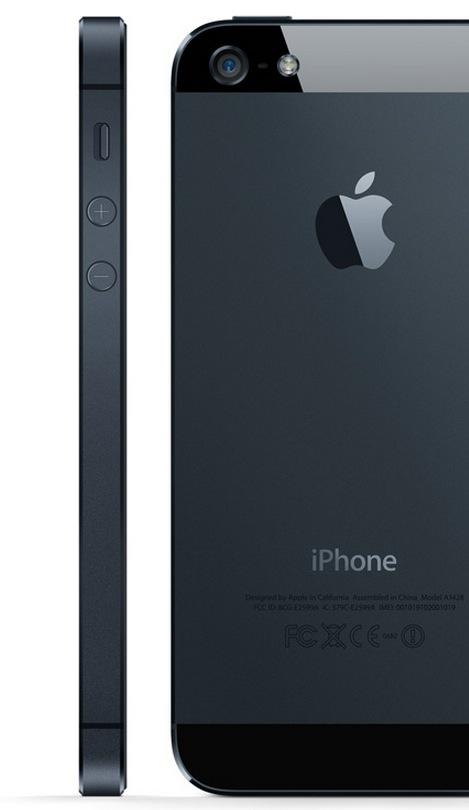 The screen is "nice" but not life-changing, though it is a far cry from the "huge" screens seen on existing Android handsets. While the screen, among other components, were not afforded a significant change like the iPhone 4's switch to the Retina display, Pogue says that nearly every feature has been upgraded. Speed is one of the metrics that has seen substantial performance gains, with 4G LTE support for "wicked-fast" internet connections and a swift A6 processor.
If you have an iPhone 4S, getting an iPhone 5 would mean breaking your two-year carrier contract and paying a painful penalty; maybe not worth it for the 5's collection of nips and tucks. But if you've had the discipline to sit out a couple of iPhone generations — wow, are you in for a treat.
People have always had lofty expectations for the iPhone 5, especially as the competition stiffens. In delivering a fast, attractive, LTE-capable and larger-screen handset, Apple has met those expectations with a gem.
The iPhone 5 is a significant improvement over the iPhone 4S in nearly every regard, and in those areas that didn't see an upgrade over its predecessor — camera, storage capacity — one could make a strong case that the iPhone 4S was already ahead of the curve. Every area, that is, except for the OS. If anything, it's the operating system here that's beginning to feel a bit dated and beginning to show its age.
Still, the iPhone 5 absolutely shines. Pick your benchmark and you'll find Apple's thin new weapon sitting at or near the top. Will it convince you to give up your Android or Windows Phone ways and join the iOS side? Maybe, maybe not. Will it wow you? Hold it in your hand — you might be surprised. For the iOS faithful this is a no-brainer upgrade. This is without a doubt the best iPhone yet. This is a hallmark of design. This is the one you've been waiting for.
While the hardware and design here is cutting edge, the software plays it safer than we would like. For those of you that have already left the Apple eco-system for Samsung or HTC, for example, the iPhone 5 isn't likely to draw you back. You might marvel at the build and design, but Apple with the iPhone 5 has created a smartphone that is too safe for you: you'll feel too mollycoddled.
Instead Apple has created a phone that the millions of current iPhone users will want to upgrade to. iPhone owners will love it, enjoy all those new features, and appreciate all the hard work, design, and engineering that has gone into it.
The iPhone 5 is a phone that makes you feel safe. A phone that you know exactly how to use as soon as you take it out of the box and that is perfect for a huge number of people.
It's a phone that, until you start craving the iPhone 6, will serve you very well indeed.
The iPhone 5 completely rebuilds the iPhone on a framework of new features and design, addressing its major previous shortcomings. It's absolutely the best iPhone to date, and it easily secures its place in the top tier of the smartphone universe.
The question everyone who hasn't yet pre-ordered wants answered: Should you upgrade? My answer is simple. If you can afford it, yes.
There's a reason why, just as with all five of its predecessors, it just says "iPhone" on the back. The iPhone 5 is all new technically, but it's the exact same thing as an idea. Apple is simply improving upon that idea year after year in infinitely finer detail, like a fractal. It's nice.