Apple issues major iOS 6 updates for nearly all of its apps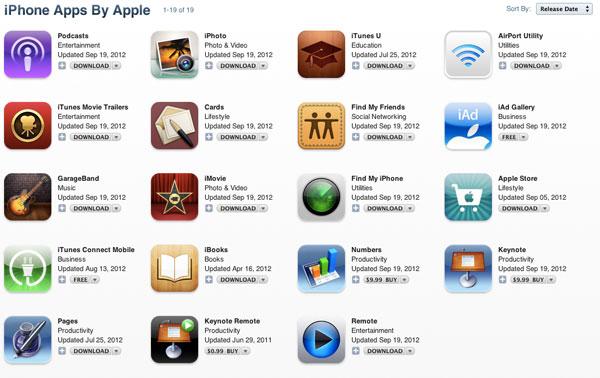 Apple on Wednesday issued updates for nearly all of its iOS software to add support and new features taking advantage of the newly released iOS 6 operating system, as well as the forthcoming iPhone 5.
Updates are available for iPhoto, GarageBand, iMovie, Numbers, Keynote, Remote, Podcasts, Find My iPhone, Find My Friends, iTunes Movie Trailers, Cards, AirPort Utility, and iAd Gallery.
Details on the updates, along with appropriate App Store links, are included below:
Added support for iPod touch (4th generation and later)
Coaching tips have been added to the Help system on the iPhone and iPod touch
Images up to 36.5 megapixels are now supported on iPhone 5 and third-generation iPad
Full resolution photos can now be imported via iTunes File Sharing
Tag albums can be created by adding custom tags to photos
"Updating Library" alert appears less frequently
Multiple photos can now be saved to the Camera Roll at one time
Cropping presets now use detected faces to determine composition
Tilt-shift and gradient effects can now be rotated
Facebook sharing now supports single sign-on in Settings
Comments can be added more easily when posting photos to Facebook
Videos can be uploaded to Facebook
Locations and friend tags can now be set when posting photos to Facebook
Comments and locations can be set on individual photos when sharing a group of photos to Facebook
Any photo previously posted to Facebook can be more easily replaced with a more current version
A notification is now displayed when an upload to Facebook completes in the background
Photos can now be shared directly to Cards, iMovie, and other supporting apps
Journals now include new layout options
Fonts and alignment of text in journal items can be modified
New style and color options are available for Note and Memory items in journals
Journal Note and Memory items can now be resized
Dividers can be added to break journal pages into sections to control the reflow of layouts
A new Swap mode makes it easier to change the placement of items in a journal layout
You can now place a pin on a journal map when no location data is present
Links to journals can now be shared directly to Facebook and Twitter, and via Messages
Links to remote journals can now be shared even if the journal was created on another device
A new Publish Changes button provides control over when to update your journal
An overlay displaying month and year now appears when scrolling in Photos view
Photos can now be sorted by date and can be filtered using new criteria
Photos view now includes a Power Scroll strip for high-speed scrolling
Grid of thumbnails can now be expanded to multiple rows in portrait orientation
Three new trailers — Adrenaline, Coming of Age, and Teen
Add photos to any trailer and have them automatically animate with the Ken Burns effect
On iPad, open the Precision Editor to create split audio edits
Play clips in the Video Browser before adding them to your project
Create a slideshow by sharing photos from iPhoto for iOS
Tap the help icon to display Coaching tips
1080p HD upload resolution is now available for sharing to YouTube, Facebook, Vimeo, and CNN iReport
Audio recordings captured in a project now appear in the Audio Browser for easy access
Create custom ringtones and alerts for your iPhone, iPad, or iPod touch
Import songs from the Music library on your iOS device
Play or record with GarageBand in the background while using other apps**
Addresses a number of minor issues related to overall performance and stability
Lost Mode (available on devices running iOS 6 or later)
Battery Charge indicator
Forever login (On iOS 6, if the account used to log in is the same as the iCloud account configured on the device and the device has passcode enabled on it.)
Location-based alerts (requires iOS 6)
Friend Suggestions

Favorites
Support for iOS 6
Ability to open a spreadsheet in another app
Support for iOS 6
Ability to open a presentation in another app
Automatically keep your podcast subscriptions up-to-date between devices using iCloud
A new setting to choose to automatically download new episodes only when on Wi-Fi
A new setting to choose whether to play episodes by oldest to newest or newest to oldest
Pull to refresh a subscription to check for new episodes on iOS 6
Additional performance and stability improvements
Universal app with native support for iPad
Six beautiful new letterpress holiday card designs
New layouts support up to 3 photos on a single card
Mail customized cards to up to 12 recipients in the same order
Images in iPhoto can be shared directly to Cards
Automatic image sharpening improves print quality
Enhanced Card History view on iPad
Improvements to address verification
Improvements to the checkout process
Remote 2.4 adds support for iOS 6
iTunes Movie Trailers 1.2 adds support for iOS 6.
Supports compatibility with iOS 6