Entire Apple design team makes first-ever appearance to receive award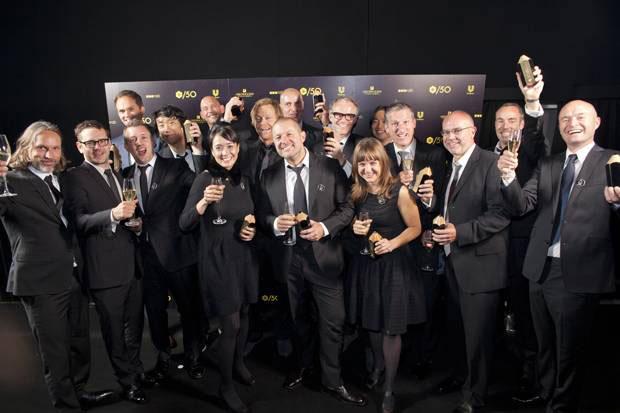 Sir Jonathan Ive and the entire 16-person Apple design team attended a prestigious award ceremony — the first time they have ever done so — to be named the best brand, and best design studio of the last 50 years.
Ive and the entire Apple design team at the D&AD awards. Photo via the London Evening Standard.
All 16 members of Apple's design team were on-hand at the D&AD awards dinner held at Evolution in Battersea Park in London on Tuesday, according to the London Evening Standard. It was said to be the first-ever time Apple's design team attended an award ceremony.
Joining all 16 members of his team was Ive, Apple's design chief, who declined to make any public comments. The team of 14 men and two women attended to receive one of the most prestigious awards in the advertising industry.
D&AD, or Design and Art Direction, is a British educational charity that promotes excellence in design and advertising. Its annual awards are considered to be a major event in the advertising and design world.
Tuesday's event was an even bigger deal than usual, as D&AD was celebrating its 50th anniversary by recognizing some of the best designers and advertisers of the last 50 years. Apple won the design award, while Collett Dickenson Pearce & Partners was named the best advertising agency of the last half-century.
Apple was the only company at this week's event to be recognized with two awards, according to DigitalArts.
A public appearance for Apple's design team is particularly unique, as Ive and his team are an especially unheard of group from a notoriously secretive company. A 2006 profile of Ive said that at the time he and his team worked in a large, secretive open studio that many Apple employees were not allowed to enter.