NYPD registering devices at Apple stores on iPhone 5 launch day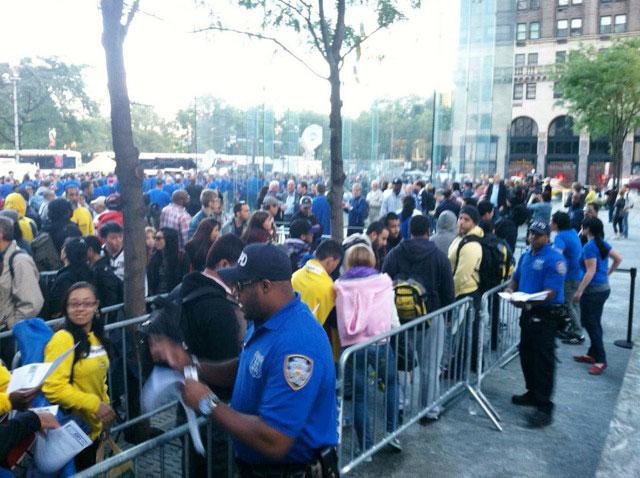 The New York Police Department is on-hand at Apple's retail locations in the Big Apple on Friday to help customers register their electronics in order to potentially recover them in the event of a theft.
NYPD sign up customers at Apple's Fifth Ave store Friday. Photo via Gothamist.
The NYPD's "Anti-Apple Picking Campaign" is part of the NYPD's Operation ID, a free service in which offers registers the serial number of valuable portable electronics along with the owner's name and contact information. Friday the police department made a major push, as highlighted by Gothamist, to get users registered on the launch date of the iPhone 5.
"The theft of Apple phones and other handheld devices drove the spike in robberies and larceny this year," Police Commissioner Ray Kelly said. "Individuals alert to their surroundings are less likely to become victims, and Operation ID will help those whose property is lost or stolen to get it back."
Members of the public can bring any of their portable electronic devices, even if it is not an iPhone, to the NYPD personnel that are stationed at all Apple retail stores on Friday. The NYPD also has officers using iPhones with iCloud and Find My iPhone which can help users relocate their iPhone in the event that it is lost or stolen.
Those upgrading to the iPhone 5 can also check out AppleInsider's breakdown of trade-in offers for previous-generation iPhones. A number of online providers offer cash in return for a used iPhone 3GS, iPhone 4, or iPhone 4S, making the cost of the new iPhone 5 easier to afford.