Disagreements over turn-by-turn directions prompted Apple to ditch Google Maps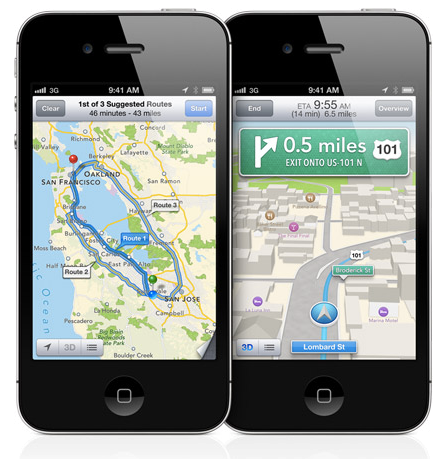 Apple's decision to abandon Google Maps with iOS 6 and implement its own mapping solution was reportedly driven by a disagreement between Apple and Google over turn-by-turn navigation.
Citing multiple sources familiar with the talks held between the two companies, John Paczkowski of All Things D reported on Wednesday that Apple wanted Google to bring spoken turn-by-turn navigation to iOS, but could not broker a deal. As a result, Apple decided to ditch Google Maps so that it could provide users with turn-by-turn directions — a free feature that has been integrated into Google's competing Android platform for years now.
"Requiring iPhone users to look directly at handsets for directions and manually move through each step — while Android users enjoyed native voice-guided instructions — put Apple at a clear disadvantage in the mobile space," Paczkowski wrote. "And having chosen Google as its original mapping partner, the iPhone maker was now in a position where an archrival was calling the shots on functionality important to the iOS maps feature set."
Sources reportedly said that Apple "pushed Google hard" to bring turn-by-turn navigations to iOS. However, Google viewed the capability as a "key feature" of its own Android platform, and decided to keep the functionality exclusive to Android handsets.
While Apple wanted voice-guided navigation in its iOS Maps application, Google wanted in-app branding and the addition of its Google Latitude service to the built-in iOS mapping service. Apple reportedly refused to concede either of those to the search company.
This week it was revealed that Apple waived one year of its remaining contract for Google Maps to roll out is own iOS mapping solution. Google is said to be working on its own standalone Google Maps application for iOS, but it is not expected to debut for months at the earliest.
Paczkowski added on Wednesday that Google is currently "scrambling" to build a dedicated Google Maps application for iOS to be released on the App Store. That's partially driven by the large number of Google Maps users that the company just lost when 100 million iPhone, iPad and iPod touch owners upgraded to iOS 6 in its first few days of availability.