Official iPhone 5 user guide references Apple-made dock

AppleInsider may earn an affiliate commission on purchases made through links on our site.
Though Apple has not released a first-party dock for the iPhone 5 and its new Lightning connector, the official iPhone 5 user guide refers to an official "iPhone Dock" accessory sold separately.
References to the dock, first highlighted on Thursday by MacDailyNews, can be found in two different places within the official guide. The iPhone 5 guide can be downloaded in PDF form direct from Apple.
The first reference to a supposed "iPhone Dock" accessory can be found on page 7 of the guide. At the bottom of the page, under the "Connecting cable" heading, the guide notes that the new Lightning to USB Cable, packaged with the iPhone 5, "can also be used with the iPhone Dock (sold separately)."
Another mention of an officially titled "Dock" can be found on page 34 of the iPhone 5 owners' manual. In a section that informs users how they can recharge the battery on their new iPhone 5, the guide notes that users can connect their handset "to your computer using the included cable and the Dock, available separately."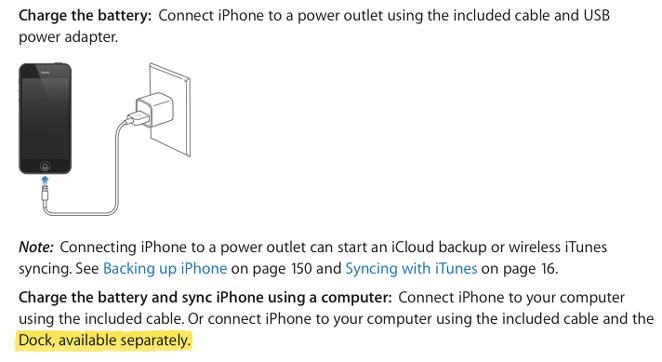 For previous iPhone models with the 30-pin dock connector, Apple has sold a first-party dock for $29. The first-generation iPhone, released in 2007, even shipped with a dock for charging and syncing included in the box for the device.
But this year, with the launch of the iPhone 5 and its new, smaller Lightning connector, Apple did not release a redesigned dock alongside the new hardware. The redesigned port allowed Apple to make the new iPhone thinner and lighter than ever, but has also caused frustration for some users who are upset that legacy accessories, including 30-pin docks, are no longer compatible.
There have been suggestions that Apple may not be planning an official iPhone 5 dock designed to fit the new device's thinner profile and redesigned Lightning port. But references contained in the official iPhone 5 manual suggest that the company could still release an accessory.
However, it's also possible that Apple originally planned to build its own iPhone 5 dock before scrapping those plans, and references to an official "Dock" accessory simply were not removed from the iPhone 5 user guide.