'iPad mini' mockup compared to Nexus 7, Kindle Fire HD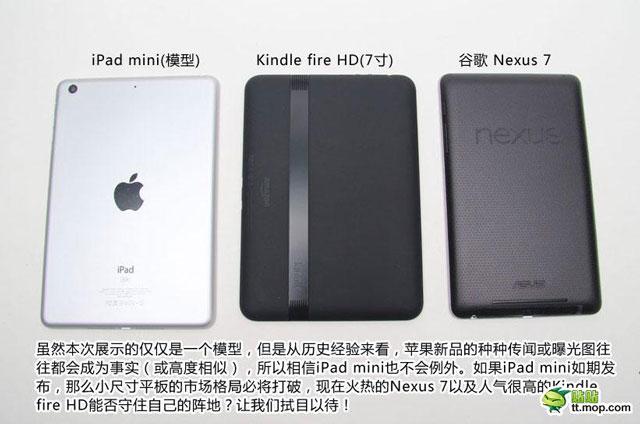 A mockup of a 7.85-inch iPad has been photographed next to a Google Nexus 7 and 7-inch Kindle Fire HD, giving a better idea of what Apple's new, smaller tablet is expected to look like.
The images published on Monday by Nowhereelse.fr show that the so-called "iPad mini" is noticeably thinner than the Nexus 7. When laid out next to the Nexus 7 and Kindle Fire HD, it's also shown to be slightly taller than those smaller devices.
The latest images posted Monday also show that the dummy iPad mini has a thickness of 7.69 millimeters. That's even thinner than the new iPad with Retina display, which is 9.91 millimeters thick.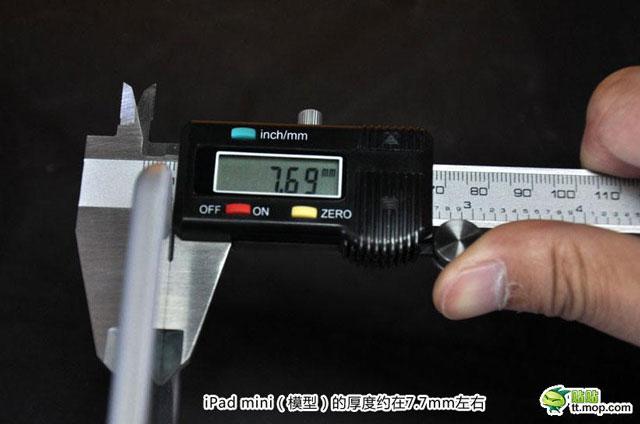 The device was also measured at 13.5 centimeters wide, or 5.3 inches, wide, and 20 centimeters, or 7.87 inches, tall. In comparison, the full-size iPad is 9.5 inches tall and 7.31 inches wide.
The device is expected to have a 7.85-inch display that will run at a resolution of 1,024 by 768 pixels. That's the same resolution as the currently available iPad 2, which would allow applications to run natively on the device without modification or letterboxing, such as with legacy applications on the taller 4-inch display of the iPhone 5.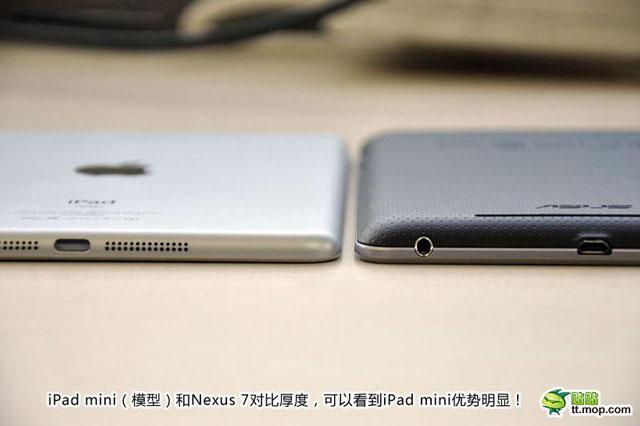 Dummy mockups of the anticipated iPad mini have appeared online numerous times in recent weeks. Just last week, a new video showed a Wi-Fi-only iPad mini mockup.
The dummy iPad mini was also compared to Apple's full-size model, as well as an iPhone a few weeks ago. The iPad mini mockups have been available for sale in China for around $13.
Apple is expected to hold an event to unveil the iPad mini this month. One report issued earlier Monday suggested that invitations to the media could be sent out on Oct. 10, which would hint at an Oct. 17 event date and product launch as soon as Friday, Oct. 26.