Microsoft begins guerrilla marketing campaign for Surface near Chicago Apple Store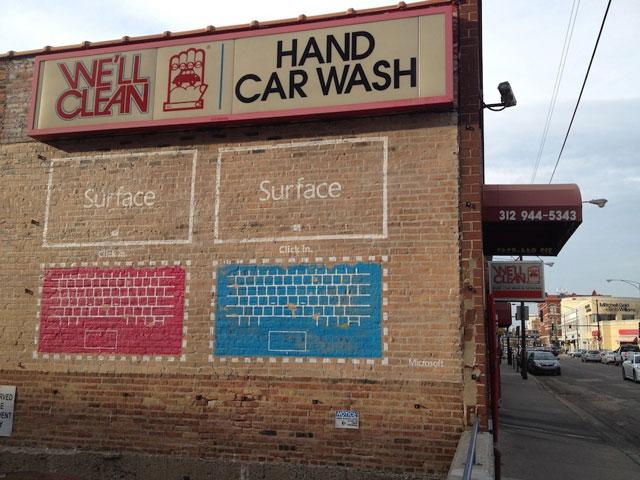 Microsoft has begun promoting its forthcoming Surface touchscreen tablets with an alternative, graffiti-style marketing campaign just a block away from an Apple Store in Chicago.
The Surface advertisement located on the outside brick wall of "We'll Clean Hand Car Wash" was spotted by Yoni Heisler of iOnApple. He characterized the promotion, especially its location on the side of a car wash, as "particularly bizarre."
The advertisement features two blank rectangles drawn in white with the "Surface" name centered and a small Windows logo below. Beneath each is the tagline "Click in," with red and blue keyboards and trackpad, and a small Microsoft logo to the right.
It's likely that Microsoft chose the location for the ad because of its proximity to the Lincoln Park Apple Store. The car wash is just a tenth of a mile from Apple's store.
The Lincoln Park Apple Store is in a standalone building in prime location next to the North/Clybourn Red Line subway station. In 2009, Apple agreed to pay $4 million to renovate the subway station in order to secure the space for its store.
Microsoft plans to compete head-to-head with Apple's iPad with the launch of its new Surface tablets. The product is particularly compelling because Microsoft has designed and built the hardware itself, rather than allowing its partners to create devices as it has done in the traditional Windows PC space.
ARM-based Surface tablets running the touch-based Windows RT operating system are set to go on sale later this month on Oct. 26. That same day, the new Windows 8 operating system will also go on sale and debut in new PCs.