Windows 8 to launch on Oct. 26 with new hardware in tow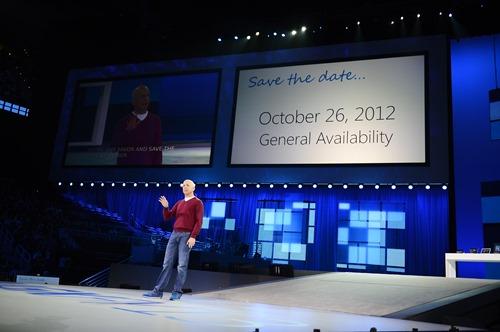 AppleInsider is supported by its audience and may earn commission as an Amazon Associate and affiliate partner on qualifying purchases. These affiliate partnerships do not influence our editorial content.
It was revealed during Microsot's annual sales meeting that the company's next-generation operating system will hit shelves on Oct. 26 meaning new hardware will shortly follow including the Surface tablet.
Microsoft's Windows Division President Steven Sinofsky made good on a promise from Windows Chief Marketing Officer and Chief Financial Officer Tami Reller who said Windows 8 would see release sometime in October, reports Electronista. A subsequent post on the company's dedicated Windows blog detailed the meeting, describing upgrade tiers and purchasing options.
Windows 8 will debut in 231 markets covering 109 languages on launch day and existing users of the ubiquitous OS can upgrade to the revamped software online for $40. According to Microsoft's website, all PCs running Windows XP, Vista or Windows 7 qualify for the $39.99 upgrade with the option to add on Windows Media Center for free though the operating system's "add features" option.
Wednesday's announcement also portends the imminent release of tablets, PCs and Ultrabooks running the one-OS-for-all software when Microsoft announced as much during the Surface unveiling in June.
Windows Division President Steven Sinofsky announces Windows 8 launch date.
Source: Microsoft
Microsoft's Surface will likely be one of the first Windows 8 examples on offer when the OS debuts as the device marks the Redmond-based company's first foray into the tablet hardware market. Initially, a stripped-down ARM-based iteration called Surface for Windows RT will roll out before a more full-featured Intel version dubbed Surface for Windows 8 Pro hits stores later this year.
It is unclear what features are missing from Windows RT but Microsoft is claiming the new OS is meant to reflect a "PC+" era where all devices run identical operating systems. This is counter to Apple's "post-PC" era which describes multiple devices running software tailor-made for specific tasks, an example being OS X for laptops and iOS for iDevices. Microsoft COO Kevin Turner claimed that the iPhone maker's view future computing is incorrect and instead believes in a "ond-OS-fits-all" approach to OS coding. Interestingly it appears that Windows RT skews toward the "post-PC" model.
Apple is looking to release its own next-generation operating system with OS X 10.8 later in July, and while no specific date has been set a launch should be imminent as the company seeded the Mountain Lion gold master last week.