Motorola says reduction of German Android devices was planned, not linked to patent rulings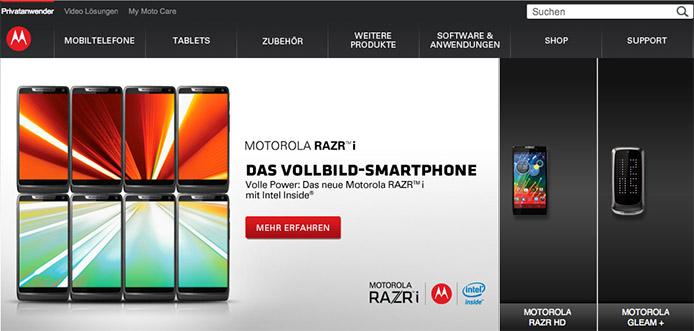 In a statement on Monday, Google's Motorola Mobility claims the quiet removal of a number of Android-based devices from the German market was part of a strategy to focus on newer products, not the result of unfavorable rulings in patent cases involving Apple and Microsoft.
The reduction in Motorola's Android offerings, first reported by German news site Areamobile, was originally thought to be a reaction to multiple injunctions against certain Motorola Android devices won by both Apple and Microsoft. A comment from a Motorola spokeswoman tells a different story, however, as the company claims the products were pulled according to plan.
"As we have previously stated Motorola Mobility is focusing on fewer mobile devices," the spokeswoman told AllThingsD. "As a result we have phased out some of our lower tier devices in Europe/Germany."
This is contrary to a previous Motorola statement obtained by Areamobile, which said the operating software of the supposedly defunct devices was being "reworked at the moment," and the products were scheduled to go back on sale in the near future. The information seems dubious, however, as the devices claimed to be returning soon were delisted from the company's site months ago.
As noted by FOSS Patents' Florian Mueller, the original announcement on Motorola's German website projected the devices would return by the end of July, however that date has long since passed. In the intervening weeks, Motorola was hit with three patent case losses from Microsoft and Apple, suggesting the Google subsidiary is having trouble creating workarounds.
Apple and Microsoft have won three German injunctions each against infringing Motorola Android devices, putting the one-time communications leader against the wall after it attempted to leverage its own patents against the iPhone and Windows Mobile products.
Currently, Motorola's German website only lists availability of the RAZRi, RAZR HD, and Gleam+ smartphones, while the company's XOOM tablets are nowhere to be found.