In initial test run, Apple's Passbook accounts for 12% of MLB e-tickets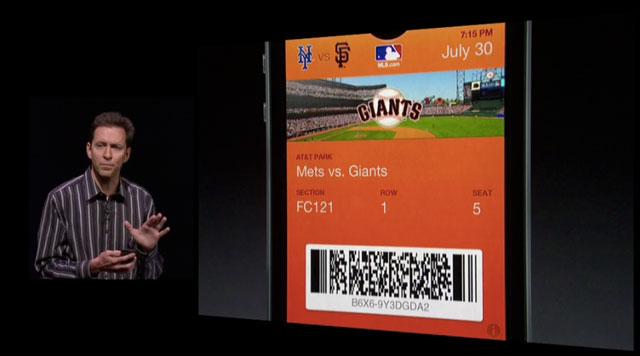 Major League Baseball has been quick to adopt Apple's new Passbook digital ticketing system, and the league has been "floored" with the initial results.
Bob Bowman, CEO of MLB Advance Media, told MarketWatch that in an initial run of four teams for the final two weeks of the season, 1,500 e-ticket buyers chose to have their tickets delivered via Apple's Passbook for iOS 6. In all, 12 percent of e-ticket buyers opted to receive their tickets in Passbook.
"That adoption rate really floored us — there is no question our fans want digital tickets," Bowman said. "Fans can use the tickets, forward them to a friend, resell them, or even donate them to charity — and they never get lost or left at home."
MLB is one of the biggest partners with Apple for its new Passbook initiative. The use of Passbook for baseball tickets was demonstrated onstage by Apple iOS chief Scott Forstall last month.
In his demo at the iPhone 5 unveiling, Forstall accessed a ticket for a San Francisco Giants baseball game he had recently attended. In the onstage example, Forstall deleted the used ticket, which prompted the Passbook application to display the digital ticket running through a virtual paper shredder.
Ticketing support for select MLB teams has been available since the launch of iOS 6 last month through the free MLB.com At Bat application. Support is available through MLB Advanced Media for four clubs across the U.S.: the San Francisco Giants, New York Mets, Boston Red Sox and Kansas City Royals.
MLB tickets through Passbook are driven by open technology from Tickets.com. The digital tickets in iOS 6 include customary information such as the game date, opponent, time, section, row and seat.
Fans can receive and store digital tickets after completing a purchase via the official MLB.com website or official club websites. Digital tickets with Passbook are also displayed on the iPhone's lock screen as a day-of-game reminder.