'Infinity Blade: Dungeons' for Apple's iOS delayed until 2013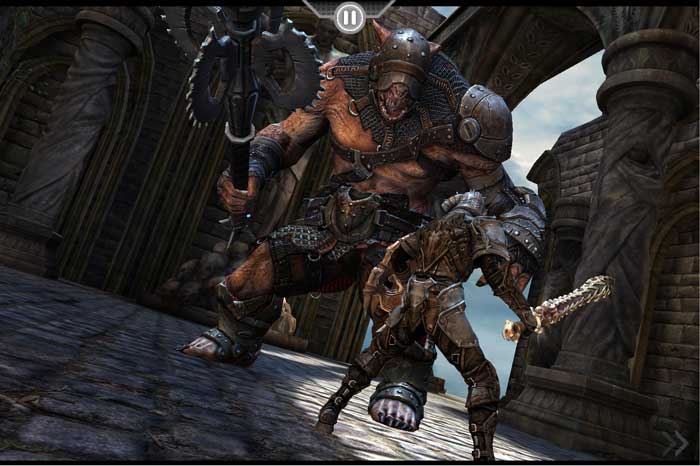 "Infinity Blade: Dungeons," a game that was shown off alongside the new iPad with Retina display in March, may not launch until around the time when Apple's full-size iPad is expected to hit the market.
Epic Games revealed to AllThingsD on Wednesday that the sequel to its popular "Infinity Blade" series won't launch until 2013. The iOS-exclusive game will run on both iPhone and iPad.
"Ever since the talented team at Impossible Studios got their hands on 'Infinity Blade: Dungeons,' they've been adding their great ideas to the game," Epic spokesman Wes Phillips said. "There was also the matter of getting the Impossible Studios team up and running with desks, chairs, staplers and computers. The logistics of a new studio and implementing all these great ideas required a little extra time, so 'Infinity Blade: Dungeons' will hit iOS in 2013."
Apple showcased Epic's latest flagship mobile game back in March on the new iPad with Retina display. The title was used to highlight the graphical power of the latest iPad, offering HDR graphics and tone mapping comparable with game consoles like the Xbox 360 and PlayStation 3.
The Infinity Blade franchise has become an important part of Apple's presence in the mobile gaming space, where the iPhone, iPad and iPod touch have found considerable success in a market that has long been dominated by Nintendo.
Epic revealed in June that its "Infinity Blade" series, which is exclusive to iOS, has become more profitable than the company's blockbuster "Gears of War" games for Microsoft's Xbox 360. In fact, in terms of man hours versus revenue, "Infinity Blade" is the most profitable game ever made by Epic, which is why CEO Tim Sweeney believes the greatest growth in the gaming industry lies in free-to-play titles.