Apple begins construction of iCloud data center in Prineville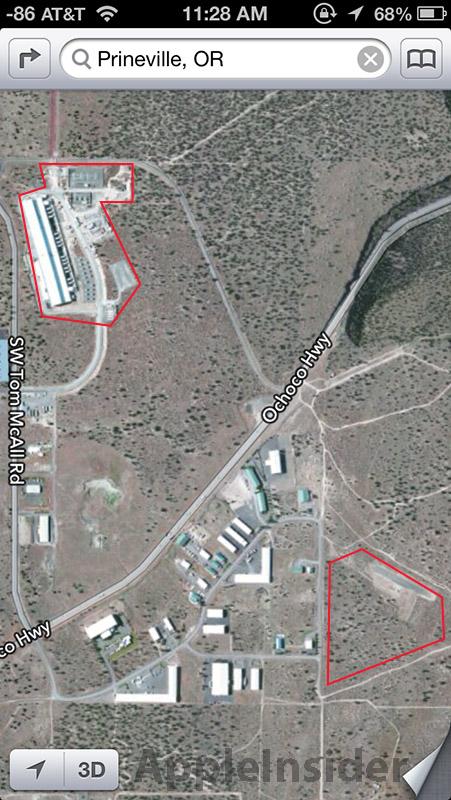 Apple has initiated the first construction phase of its new Prineville, Oregon, data center, with the huge complex expected to shoulder some of the iCloud traffic currently routed to the company's servers in Maiden, North Carolina.
Apple began work on the first phase of its Prineville project by clearing and flattening land that will be the site of one of the data center's two massive 338,000 square-foot buildings, reports The Oregonian.
The company is spending $68 million for the land preparation and subsequent construction of the data center's first building, which will house two "data halls." Future plans for the site include a second building and the eventual roll out of 14 additional data halls.
Apple in February confirmed it had purchased the 160-acre plot for $5.6 million, saying the land would be used to build a "green" data center which would supplement the company's existing server farm in Maiden, NC.
Including server hardware, construction costs, and labor costs, the new facility is expected to set Apple back hundreds of million or billions of dollars. Previous estimates put the data center's cost at $250 million.
Facebook was first to established a data center in the area, with a 334,000 square-foot building completed in 2010 now sitting next to a 360,000 square-foot companion structure.
On Apple's environmental information webpage, the company writes, "Our newest data center, located in Prineville, Oregon, is just getting under way and will be every bit as environmentally responsible as our Maiden data center. At Prineville we have access to enough local renewable energy sources to completely meet the needs of the facility."
Aside from two local utility companies, Apple has tapped a number of renewable energy providers to feed electricity to the facility, including firms dealing in wind, hydro, and geothermal power.
It is not known when the iCloud-centric data center will officially go online, though a 10,000 square-foot modular server array has already been built and is thought to be up and running.