Apple leaks mention of iBooks 3.0, reinforcing iPad mini focus on ebooks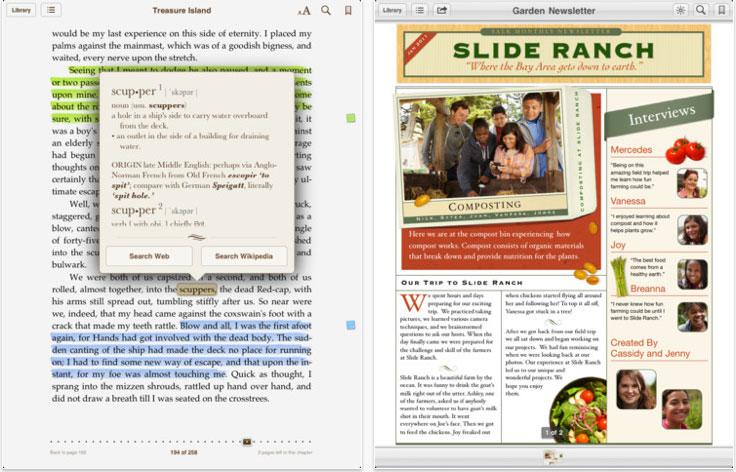 The appearance of the yet unreleased "iBooks 3.0" as a requirement for certain titles in Apple's iBookstore suggests the company will soon update its ebook client app for iOS, likely in conjunction with the release of iPad mini.
According to a report by The Next Web, there is already at least one title in the French iTunes Store specifying iBooks 3.0.
Under the title's "Requirements," which are generated by Apple and not potentially a third party developer's typo, iTunes specifies, "This book requires iBooks 3.0 or later and iOS 4.2 or later. The books can be displayed with iBooks on an iPad, iPhone (3G or later) or iPod touch (2nd generation or later)."
An ebook publisher commented on the report, noting that the iTunes publisher software is indeed listing "iBooks 3.0" as a requirement option.
The news only bolsters rumors that the same site floated last week, indicating that Apple plans to emphasize the new iPad mini as a media-centric device, particularly in regard to iBooks.
This isn't really surprising, given that iBooks is currently the third "built-in app" highlighted by Apple on its iPad website, listed right after Safari and Mail.
But Apple also lists Photos, FaceTime, Maps, Newsstand and Messages in equally large type, and gives secondary mention to its Calendar, Reminders, Contacts, the App Store, iTunes, Music and Videos, Notes, Game Center, Photo Booth, Clock and Camera apps for iPad,
While competing mini tablets from Amazon, Google and others have emphasized ebook reader functionality, they haven't attempted to cover the wide range of other apps Apple provides.
iBooks is, however, an important focus for Apple, particularly in education, an important market for Apple's current tablets and a likely focus for the smaller new iPad mini. With the release of the new iPad earlier this year, Apple also introduced the new iBooks Author, a tool designed to simplify the creation of interactive digital textbooks, as well as an enhanced iBooks 2 for reading them.
Last month, an error reported by Apple TV suggested that Apple also plans to bring iBooks to the living room.