Apple unveils 13-inch MacBook Pro with Retina display starting at $1699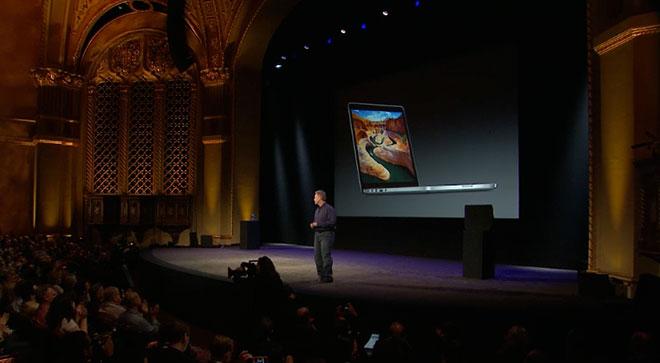 Apple on Tuesday took the wraps off its redesigned 13-inch MacBook Pro, featuring a high-resolution Retina display.
Apple executive Phil Schiller noted that the 13-inch MacBook Pro is Apple's No. 1 selling Mac in its entire product lineup. With that in mind, the company has high expectations for its new MacBook Pro with Retina display.
The pixel count on the new 13-inch MacBook Pro is so high that it is now the second highest resolution notebook, ahead of all competitors' models with larger 15 or even 17 inch screens, the company said. The new screen features rich color, deep blacks, a 29% higher contrast ratio, a 75% reduction in reflection, uses IPS for 178 degree viewing, and delivers 300 nits of brightness.
"The 13-inch MacBook Pro is our most popular Mac, and today it gets completely reinvented with a new thin and light design, fast flash storage and a gorgeous Retina display," Schiller said. "With vivid colors, razor sharp text and more pixels than anyone else's 15 or 17-inch notebooks, the Retina display completely changes what you expect from a notebook."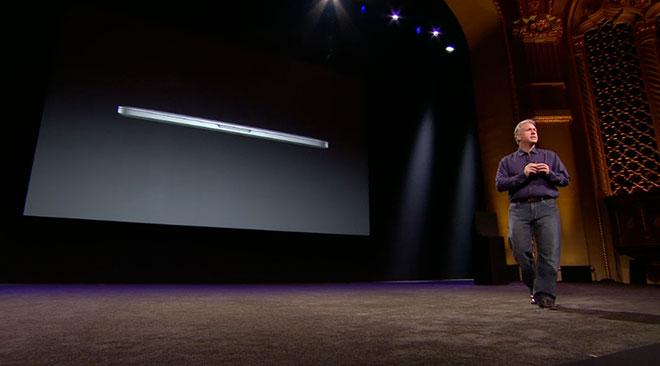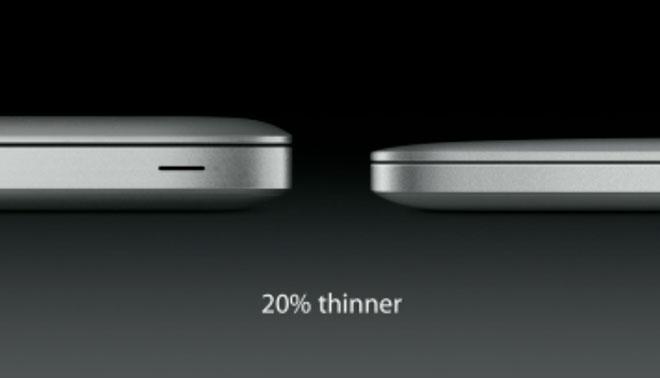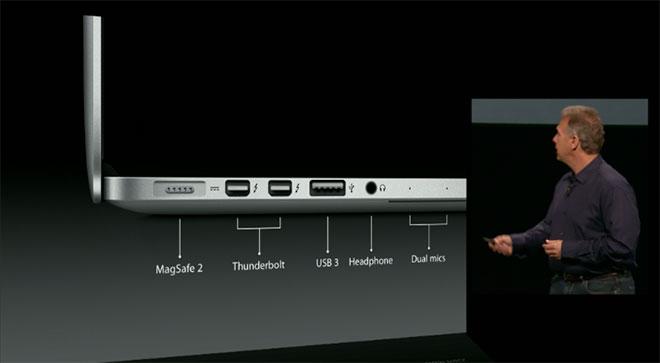 The new model weighs just 3 lbs, almost a full pound lighter than the previous 13-inch MacBook Pro, and is 0.75 inches thick, 25% thinner than before and the lightest ever. Schiller noted that the MacBook Pro's Retina display has more than 4 times as many pixels than its predecessor.
The 13-inch Retina display has a pixel density of 227 pixels per inch. It also uses IPS technology for a 178-degree-wide viewing angle, and has 75 percent less reflection with 28 percent higher contrast than the current generation.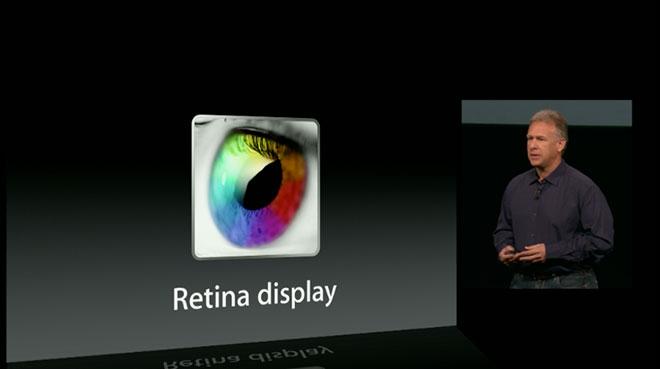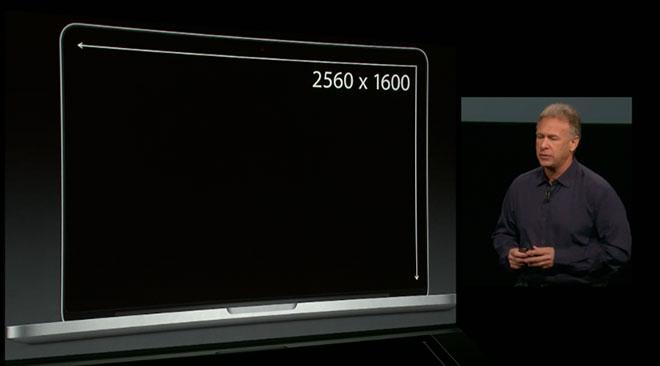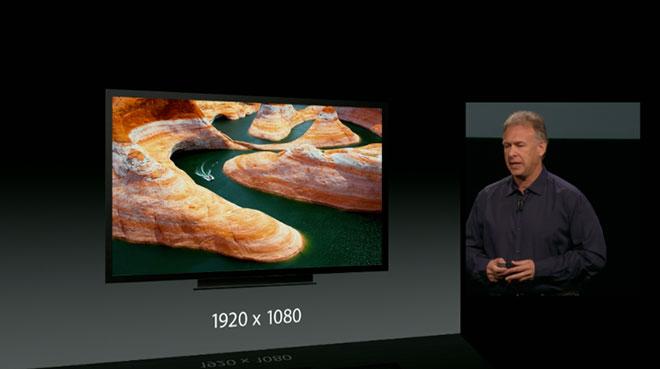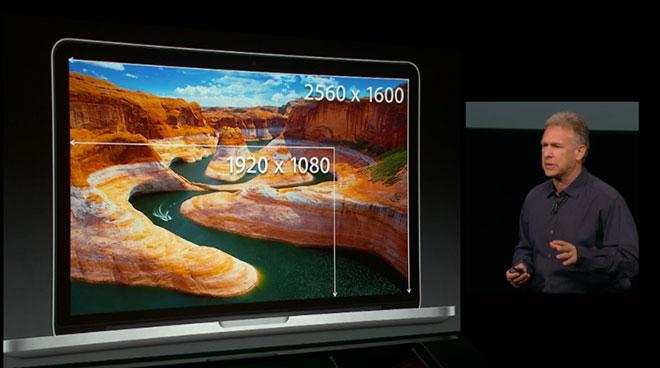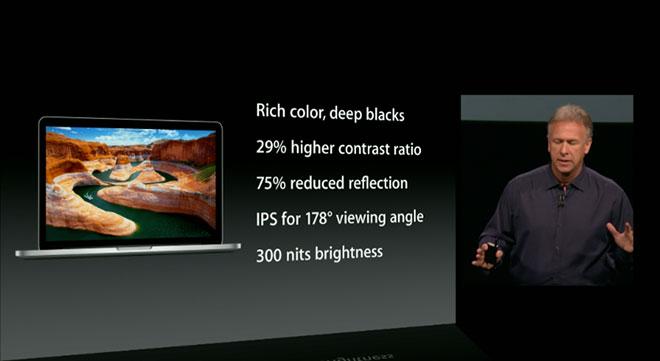 Beyond the screen, it has a FaceTime HD camera, dual microphones, stereo speakers, a backlit keyboard, and glass multi-touch trackpad, as well as the new MagSafe 2, dual Thunderbolt ports and USB 3.
Schiller said the "most exciting" part of the computer is on the inside: It's been re-engineered from scratch, with asymmetric battery technology, Intel Core i5 or i7 "Ivy Bridge" processors, and Intel HD 4000 integrated graphics.
It also has up to 7 hours of battery life and comes with 8 gigabytes of RAM. Like its 15-inch brethren, the new MacBook Pro is only available with flash storage, which can be upgraded to 768 gigabytes.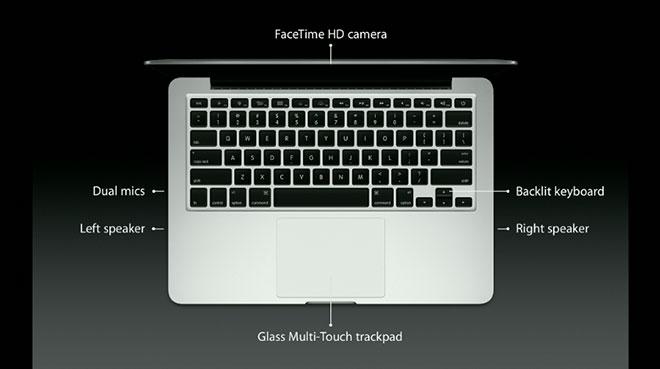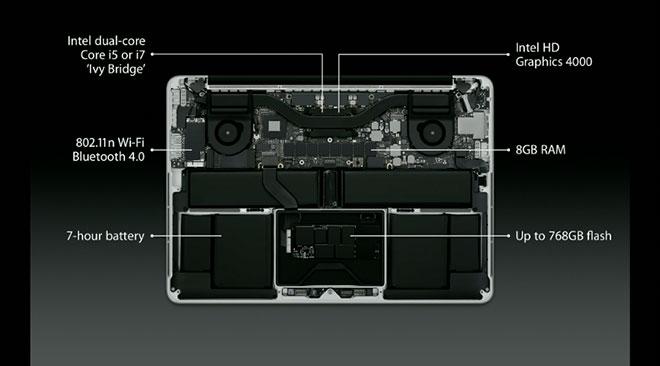 Pricing & availability
The 13-inch MacBook Pro with Retina display is available with a 2.5 GHz dual-core Intel Core i5 processor with Turbo Boost speeds up to 3.1 GHz, 8GB of memory and 128GB of flash storage starting at $1,699 (US); and with 256GB of flash storage starting at $1,999 (US). Configure-to-order options include faster dual-core Intel Core i7 processors and flash storage up to 768GB. Additional technical specifications, configure-to-order options and accessories are available online at apple.com/macbook-pro. The 13-inch MacBook Pro with Retina display is available today through the Apple Online Store (apple.com), Apple's retail stores and Apple Authorized Resellers.