Apple brings $19 Lightning to Micro USB adapter to U.S. stores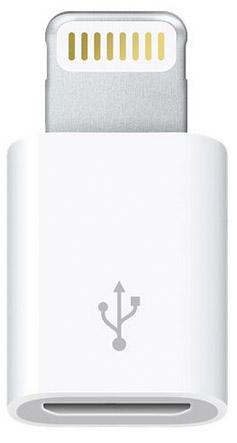 Alongside the iPad mini, Apple on Friday introduced the Lightning to micro USB adapter, a tiny dongle first available in Europe, to the U.S. market.
Initially built and released in tandem with the iPhone 5 in Europe to fulfill the European Commission's regulation that all smartphones sold in the region be micro USB compatible, the $19 adapter has finally landed in North America.
Previously, those iPhone, iPod and now iPad users needed to buy the component through third-party resellers or directly from an Apple Store in Europe if they wanted to charge and sync their devices via micro USB. As there is no official standard in the U.S., manufacturers offer their products in a variety of charging methods, causing many consumers to build up a stockpile of various cables and chargers. The Lightning to micro USB adapter looks to do away with at least one of those cables.
Apple's adapter is compatible with the iPhone 5, fifth-generation iPod touch, seventh-generation iPod nano, fourth-generation iPad, and iPad mini. According to the company's website, the dongle is able to both charge and sync devices, though it is unlikely that audio line out is supported as the Lightning protocol is completely digital and would require an embedded digital-to-analog converter to function.
The $19 adapter can be purchased directly from the Online Apple Store, with shipments available to ship in one to three days.