Samsung Galaxy S III topped Apple's iPhone 4S in Q3 2012 sales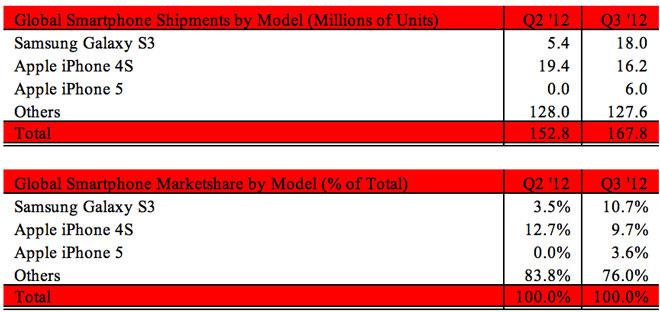 AppleInsider is supported by its audience and may earn commission as an Amazon Associate and affiliate partner on qualifying purchases. These affiliate partnerships do not influence our editorial content.
With the iPhone 4S nearly a year old and the iPhone 5 not quite ramped up to full production, Samsung's Galaxy S III capitalized to become the top selling handset model in the third quarter of calendar 2012.
AppleInsider first reported in early September that the Galaxy S III was the top selling smartphone in the U.S. in the month of August, ousting Apple's iPhone 4S from the top spot for the first time in the history of that device's availability. And now, according to the latest data from Strategy Analytics, Samsung's flagship Galaxy S III overtook Apple's iPhone 4S worldwide in the September quarter.
Total sales of the Galaxy S III were 18 million, up from 5.4 million in its launch quarter. In comparison, Apple sold 16.2 million of the iPhone 4S.
Interestingly, with only a week's worth of availability, Apple's iPhone 5 was the third most popular smartphone in the quarter, with 6 million units sold.
The Galaxy S III took 10.7 percent of the total smartphone marketshare during the quarter, edging past Apple's 9.7 percent held by the iPhone 4S. The iPhone 5 accounted for 3.6 percent of all smartphone sales.
"A large touchscreen design, extensive distribution across dozens of countries, and generous operator subsidies have been among the main causes of the Galaxy S III's success," said Neil Shah, senior analyst with Strategy Analytics. "Apple shipped an estimated 16.2 million iPhone 4S units worldwide for second place, as consumers temporarily held off purchases in anticipation of a widely expected iPhone 5 upgrade at the end of the quarter."