Apple's top attorney sells $2.8M in stock, board member cashes in on $4.2M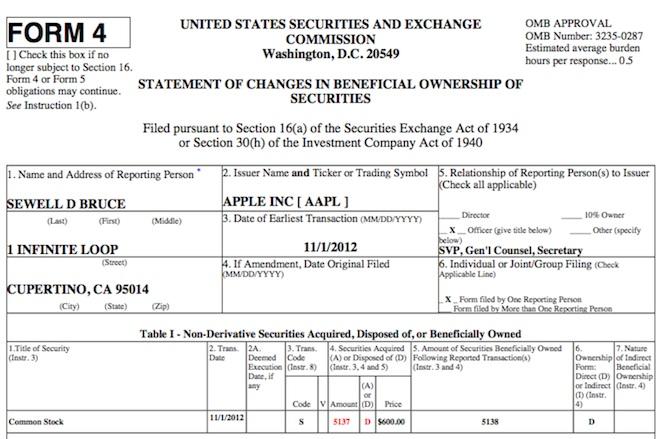 Two high ranking officials at Apple cashed in on millions of dollars worth of company stock last week, new filings with the U.S. Securities and Exchange Commission have revealed.
In a pair of Apple filings with the SEC last week, it was revealed that the company's general counsel, Bruce Sewell, as well as one of its board members, Arthur Levinson, together sold over 12,600 shares of AAPL stock worth over $7 million.
Last Thursday, Sewell sold 2,438 shares of AAPL stock priced at nearly $549, while another 2,700 shares were sold for almost $550. In all, the total value of shares sold by Sewell last week was more than $2.8 million.
It was actually the second major transaction for Sewell this month, as he also sold 5,137 shares of AAPL stock on Nov. 1. Priced at $600 each, they were worth a total of more than $3 million.
Also last Thursday, Levinson parted ways with 7,500 shares of AAPL stock valued at $560.65. The total value for those shares was more than $4.2 million.
Levinson took on a more significant role at Apple a year ago, when he was named chairman of the company's board of directors. Levinson previously served as the company's co-lead director since 2005, and also serves as chairman of Genentech, Inc. — a biotech firm he lead as chief executive from 1995 to 2009.