47% of consumers interested in Apple television, willing to pay 20% premium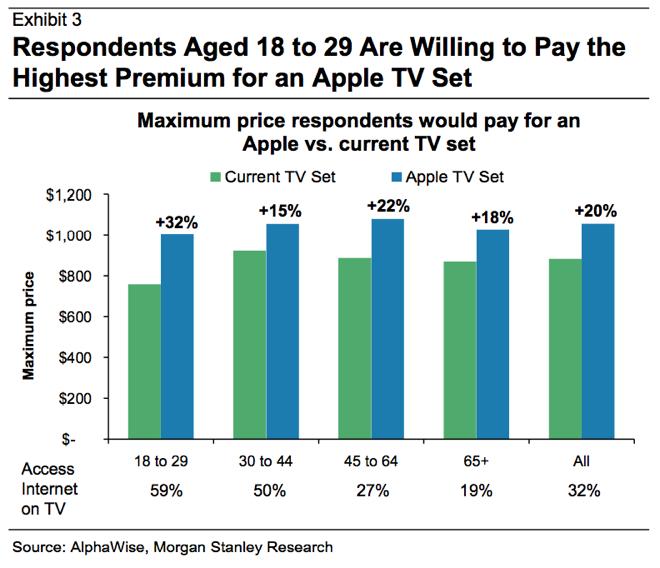 A new survey has found consumers are extremely interested in the prospect of an Apple-branded television, and are willing to pay a 20 percent premium over existing TV prices for such a device.
The survey, by AlphaWise and Morgan Stanley, polled 1,568 heads of U.S. households regarding the "smart TV" market. It found that just 18 percent of homes have a smart TV, while 13 percent of respondents said they didn't know whether their TV is considered "smart."
The poll shows that those who own smart TVs connected to the Internet actually spend less time accessing Internet content through their TV than those who do not own a smart TV.
"This suggests that Smart TVs currently available on the market do not offer easy-to-use software to integrate Internet content into users' TV experience," analyst Katy Huberty said.
Based on this, she believes that the survey shows Apple has a strong opportunity to disrupt the TV market, similar to how the iPhone made Internet consumption via a handset relevant.
The survey found that 11 percent of respondents said they would be "extremely interested" in purchasing a so-called "iTV" from Apple, while 36 percent said they are "somewhat interested." The name was used in the survey to avoid confusion with the current Apple TV set-top box.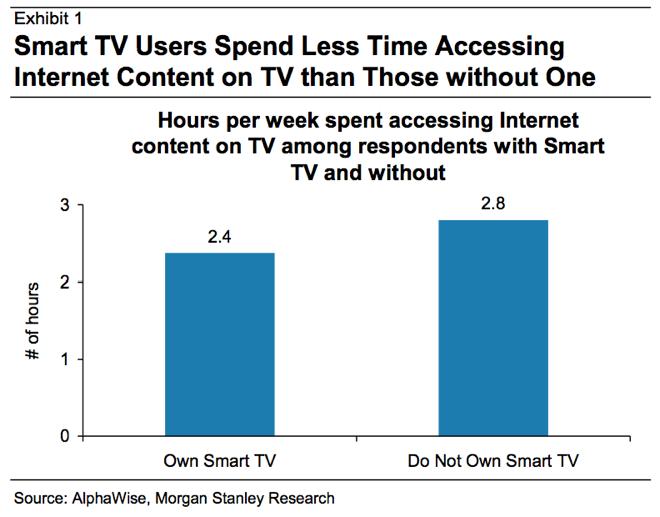 The fact that 47 percent said they are "interested" in an Apple television has made Huberty particularly bullish on the prospect of such a device. She noted that 23 percent of consumers said they were interested in purchasing an iPhone in a February 2007 survey, while 21 percent of respondents said they wanted to buy an iPad in April of 2010.
With 11 percent "extremely interested" in an Apple television, that would translate to over 13 million potential units sold in the U.S. And another 36 percent "somewhat interested" would be an incremental 43 million units.
The potential sales suggest only one Apple "iTV" per household, but the AlphaWise and Morgan Stanley survey found that the average home has 2.8 televisions, and 14 percent of respondents said they would consider replacing "all" of their TVs with Apple's hypothetical product, while 9 percent said they could replace "most."
And respondents also signaled they are willing to pay a premium for an Apple television: 46 percent said they are willing to pay over $1,000, while 10 percent are willing to pay over $2,000.
On average, respondents said they would pay $1,060 for an "iTV," which is a 20 percent premium over the $884 paid for the current average television set. Respondents ages 18 to 29 showed the most willingness to invest in an Apple television, indicating they would pay a 32 percent premium for such a device.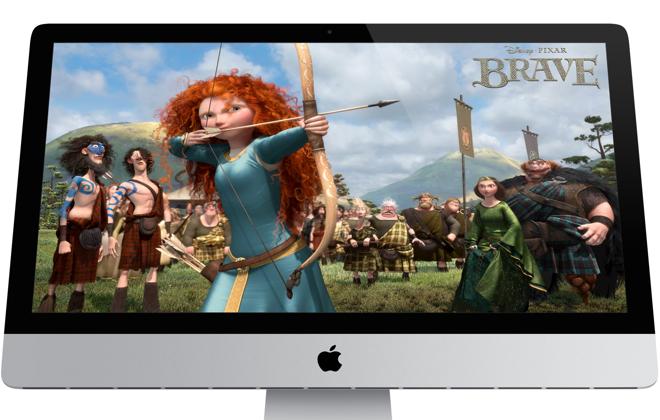 Among potential hardware features, respondents said they are most interested in high screen quality from an Apple television. As for the software, consumers were mostly interested in the device being easy to use, particularly when searching for content.
Huberty has concluded that Apple's strategy could focus less on content and more on the operating system of a potential television set. She believes if the company were to deliver a strong experience with search, ease of use, and control, it could differentiate from current sets on the market.
Buzz about an Apple television set picked up last week when the company's chief executive, Tim Cook, said in an interview with NBC that he feels current televisions are outdated pieces of technology.
"When I go into my living room and turn on the TV, I feel like I have gone backwards in time by 20 to 30 years," Cook told Brian Williams on Rock Center. "It's an area of intense interest. I can't say more than that."
Rumors have an Apple television set have persisted for years, but the possibility of an enhanced Apple TV set-top box with cable connectivity cropped up this August. A report from The Wall Street Journal revealed Apple has considered building its own cable box that would include an iOS-like user interface and advanced cloud-based DVR functionality that would blur the line between live and on-demand content.