Apple files for patent Passbook's digital coupon feature, hints at NFC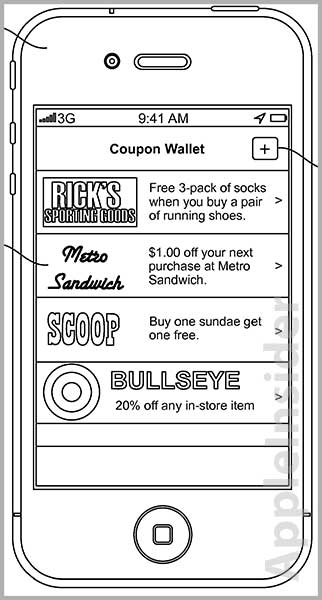 AppleInsider may earn an affiliate commission on purchases made through links on our site.
In a patent filing discovered on Thursday, Apple provides an in-depth look at the inner workings of its Passbook app — the digital coupon, ticket and gift card storage solution which comes pre-installed on all new iPhone and iPod touch products.
The U.S. Patent and Trademark Office on Thursday published Apple's patent application for an "Integrated coupon storage, discovery, and redemption system," a property covering the receipt, storage and use of digital coupons on mobile device. Also mentioned is the ability for the system described to use near-field communication technology when redeeming coupons, a protocol not yet supported by current Apple products.
While the application dates back to June 2011, over one year prior to Passbook's unveiling, the functionality described in the patent is identical to the app found iOS 6. Most of the filing's language pertains to the method in which digital coupons, like those from nationwide retailers, are managed and redeemed.
The invention calls for a "coupon wallet" that stores unique identifying coupon information, such as numbers or barcodes, which can be scanned or input into the mobile device via a camera or touchscreen. Other embodiments allow for a server to transmit coupon codes, or have them received through email messages.
Once entered into the device, the system manages the various coupons stored on-board or off-site, and will notify a user of upcoming expiration dates or when they are in proximity to a store where one of the codes can be used. Here the invention calls for geo-fencing technology as implemented with Apple Store gift cards. Currently, when a customer has stored an Apple Store gift card onto a compatible device with GPS functionality, they can choose to have Passbook open and display the digital code when walking into any official Apple retail outlet.
In some embodiments, the entire wallet can be kept on an off-site server or computer and be accessed through data networks. Currently, Passbook uses iCloud to feed coupon information across networked devices.
Going further, the invention notes that a user may subscribe to a coupon service like Groupon for automated code transmission and storage.
When it comes time to redeem a coupon, a user opens the management system and store clerks scan the UPC code or enter the coupon number through point of sale stations. Once the information is sent to a specialized server and verified, the discount can be applied.
Also covered in the application are NFC implementations. Because no existing Apple device have such capabilities, the filing suggests that the company is at least thinking about including the protocol in future versions of the iPhone or iPod touch.
Future iterations of the system may include the automatic generation and dissemination of coupons when a user enters a store, or the advertisement of current deals running at a given business. This can be accomplished through any number of wireless protocols, including Wi-Fi and Bluetooth.
Apple has previously applied for patents involving Passbook-like functionality and was awarded a travel ticket storage and redemption property in July.
It is unclear if the company will utilize all of the invention's claims, though many are already incorporated into the current Passbook app.