Free iOS app gets local communities involved in crime watching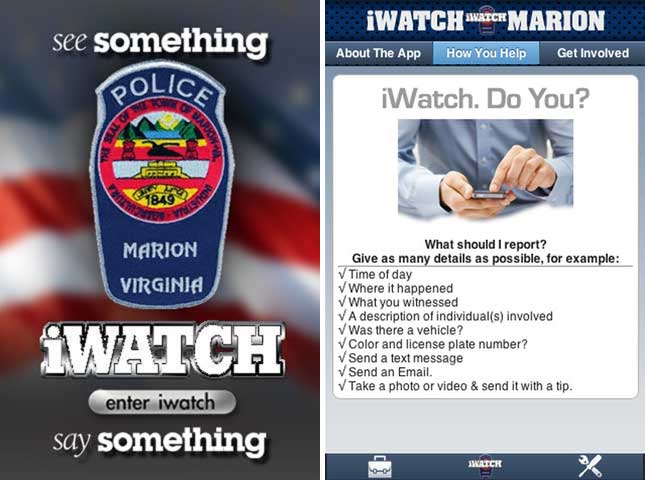 Virginia's Marion Police Department is encouraging residents to report crime to law enforcement authorities via a new app for Apple's iOS — joining several cities across the U.S. that already use local versions of the software.
The app, called iWatchMarion, was released on Nov. 30 by iThinQware in collaboration with the Marion Police Department as a free download intended to streamline crime reporting and notification for the town's residents.
According to the the its developers, iWatch is meant to raise awareness for crime prevention efforts and help foster a strong relationship between law enforcement and the community.
With the app, both citizens and visitors to the town are able to upload anything from text tips and emails to photos and videos of a crime as it happens. Alerts also include location tags generated by the iPhone's GPS which, after a review of the submissions, allows authorities to dispatch units quickly and effectively to the scene.
Marion — a town approximately 100 miles southwest of Roanoke, VA — is the latest location to be added to iThinQware's iWatch lineup: The developer has already built 18 such crime-reporting apps, including services for big cities like Philadelphia and Dallas.
Among iThinQware's chief competitors is CrimePush, a similar app launched in February that serves select zip codes across the U.S.