Early Apple prototypes by frog design's Hartmut Esslinger featured in upcoming book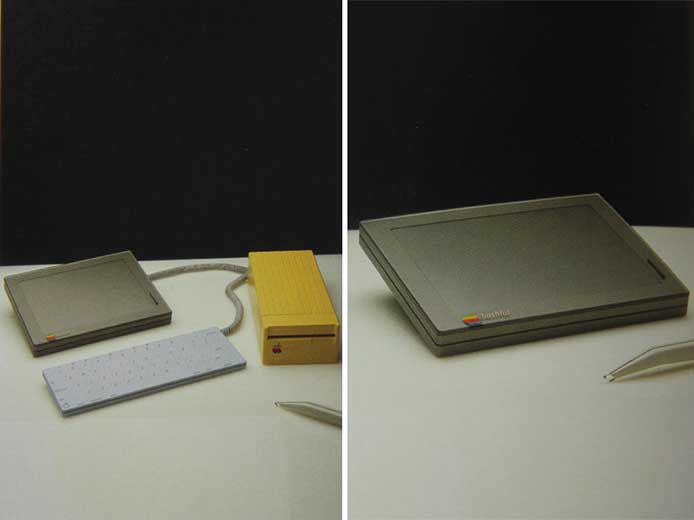 Pre-release images from a retrospective of work by Hartmut Esslinger, founder of early Apple design partner frog design, showcase a number of unreleased products and prototypes including an early "Tablet Mac" study from 1982.
Images from Esslinger's upcoming book Design Forward were published on Thursday by designboom (via The Verge) and offer a sneak peek into the design theory that produced Apple's distinctive computer models throughout the '80s and '90s. In collaboration with frog, Apple was able to create a unique design vision that helped the company move away from so-called "beige box" machines.
Most of the examples come from the "Snow White" design language, a version of which ultimately came to market with the Apple IIc, and are similar to actual Apple products, while others are more abstract and bear no resemblance to anything that came out of Cupertino.
Among Esslinger's design studies is a close look at rarely seen studies like the "Tablet Mac" from 1982, which takes on a normal slate-type format devoid of the modern iPad's infamous rounded edges, a topic of much debate during the recent Apple v. Samsung patent trial. Other notable concepts include the touchscreen "Macphone" from 1984 and the "Flat screen workstation" from 1982.
After working with Sony on the Trinitron and Wega product lines, Esslinger was contracted by Apple in the early 1980s and stayed with the company until late co-founder Steve Jobs was ousted from in 1985. The designer subsequently broke his agreement with Apple and followed Jobs to NeXT Computer. Esslinger has done design work for a veritable laundry list of high-profile clients, including HP, Microsoft Windows, Motorola, Siemens, NEC, Olympus, Lufthansa and General Electric, among others.