New York's MTA releases train-locating app for iPhone and iPod touch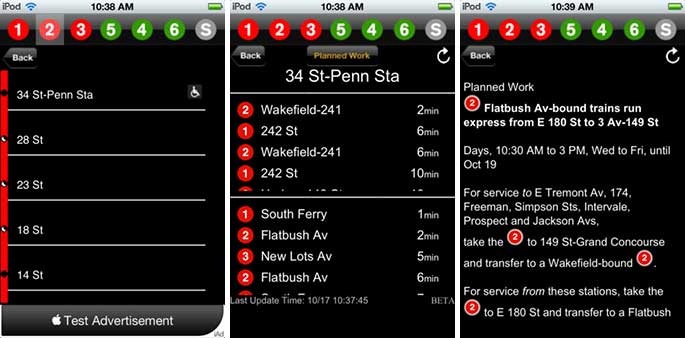 The Metropolitan Transit Authority on Friday released an iOS app that will let riders of seven train lines plan their trips to the minute, a first for the largest subway system in the U.S.
The official MTA Subway Time app uses train location data to provide iPhone and iPod touch owners with up-to-the-minute arrival times for seven of the system's 24 lines.
According to The New York Times, the MTA spent 11 years and over $228 million to install digital train-tracking sensors and relevant equipment required to serve up real-time location data. The iOS app taps into the system and feeds commuters with arrival times, though the service is available mostly aboveground as cellular extension networks planned for underground stations have yet to be completed. A large portion of the subway's train location sensors date back fifty years, just before the proliferation of microprocessors and digital communications.
Among the first lines to get support for the new free service are Nos. 1 through 6 and the 42nd Street Shuttle. Two more lines, the L line between Brooklyn and Manhattan's 14th Street and the No. 7 line between Queens and Midtown Manhattan, are currently being upgraded to be compatible with the new system. Updates to the L line are expected to be completed in six months to a year, while the No. 7 won't be ready until at least 2016.
According to the app's description, users will also be notified of service delays and reroutes prior to fare payment, a useful tool for on-the-go commuters.
Android and Windows Phone versions of the app are in the works, but unlike the iOS app, those will be built by third-party companies. The agency is also allowing developers access to the sensor data feeds, allowing app makers to build real-time tracking programs with more robust features than those offered by the official app.
MTA Subway Time for iOS is available now as a free download through the App Store.