Service for pirating iOS apps abruptly closes, cites 'stagnant' community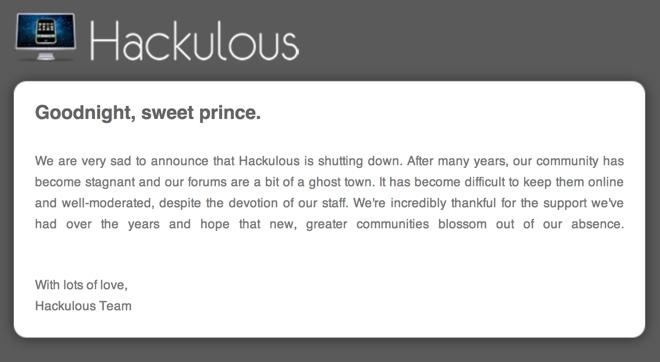 AppleInsider may earn an affiliate commission on purchases made through links on our site.
A prominent service for jailbroken iPhones that served up stolen iOS App Store applications abruptly closed on Sunday, marking a major victory for Apple in the war on piracy.
The "Hackulous" website was updated with a statement on Sunday revealing that the service was gone for good. The letter revealed that the community for stolen applications had become "stagnant," and its forums were a "ghost town."
"It has become difficult to keep them online and well-moderated, despite the devotion of our staff," said the Hackulous team. "We're incredibly thankful for the support we've had over the years and hope that new, greater communities blossom out of our absence."
Hackulous was an application that could be installed on jailbroken iOS devices. It was used in connection with another service, called Apptrackr, which served up cracked applications via a Web interface.
Strangely, Apptrackr also abruptly shut down and cited a lack of activity. But the timing of the two closings was viewed as suspicious by TorrentFreak, who spoke with two people familiar with both sites' operations who were "surprised" at the closings.
"The sites were apparently healthy and still had plenty of users," author 'enigmax' wrote. "Indeed, the shutdown statement appears to carry a contradiction — 'ghost town' forums are by their very nature not particularly difficult to keep 'well-moderated' since nobody uses them."
The site also claimed that Hackulous was installed on "millions" of devices, and those users were presented advertisements every time they used the software. A potential reason for the shutdown could be related to rumors that there may not be a jailbreak for Apple's latest iOS 6 mobile operating system.
Jailbreaking is a practice that allows users to run unauthorized code on devices like the iPhone and iPad. While jailbreaking can allow users to simply make changes not allowed by Apple, such as custom themes and unauthorized applications, it can also be used to pirate iOS software.
For years, Apple has played a "cat and mouse" game with the iOS jailbreaking community, attempting to plug holes and fix exploits used by hackers. The company even went as far as to censor the word "jailbreak" among iTunes Store content temporarily in May of this year.
While jailbreaking can be used to perform illegal activities, such as stealing applications through Hackulous when the service was active, jailbreaking itself is not illegal.