Former iAd chief's Leap Motion gesture-based controller to debut this quarter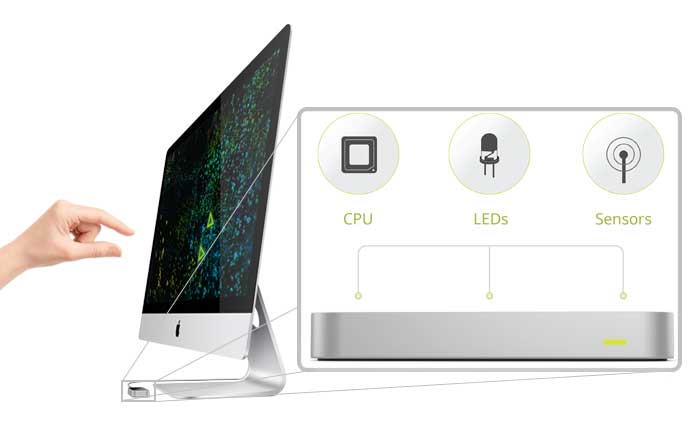 Leap Motion on Thursday announced it not only raised $30 million in Series B funding, but also entered into a partnership with Asus, giving the manufacturer a major distribution channel once the company's motion sensing controller is ready for market.
For Leap, which last summer tapped former Apple iAd chief Andy Miller to become its president and COO, the Asus partnership is just one of a number of deals being worked on for launch, reports TechCrunch. Asus is supposedly planning to bundle the motion controller with select all-in-one PCs and high-end laptops.
According to Leap Motion co-founder and CEO Michael Buckwald, an integral part of the company's early distribution strategy involves bundling the controller with existing products or integrating it in new devices.
Backers of the startup appear to be in favor of the plan, as a second round of funding led by venture capital firm Founders Fund recently brought in $30 million. This is on top of $12.75 million of funding Leap garnered with a Series A round led by Highland Capital, the firm at which Miller became a general partner after leaving Apple in 2011. The former iAd head was said to have spent upwards of 80 percent of his time at Leap when he decided to work at the company full time.
Miller said that some developers are adding the Leap Motion gesture technology into existing software while others are building apps from scratch tailored to the 3D motion tech.
"As [the Leap Motion] app store matures, we'll start to see the ratio shift towards apps that are built from the ground up, that are created and designed with this in mind," Miller said.
Some 12,000 dev units have already been shipped out to the more than 40,000 developers who signed on to help create Leap Motion applications.
As for the device itself, Leap says it will enable users to create 8 cubic feet of "3D interaction space" in front of Macs or PCs when it ships later this quarter.
A video on the company's YouTube page shows a user interacting with on-screen content using just hand and finger movements. The applications shown in the demo range from web pages, to 3D modeling applications, to video games, all controlled via hand gestures. The video has more than seven million views.
The Leap Motion controller has been in development for over four years and is expected to ship some time in the first quarter. Pre-orders are being taken at the company's website for an introductory price of $69.99.