US Mac shipments didn't shrink in holiday quarter, they grew 5%, Gartner says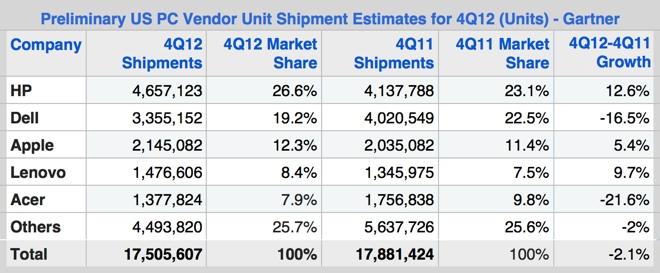 AppleInsider may earn an affiliate commission on purchases made through links on our site.
Gartner on Monday contradicted its rival IDC and claimed that domestic Mac shipments actually grew for Apple by 5 percent year over year in the holiday quarter.
Apple's U.S.-based shipments were up 5.4 percent while the overall PC market slid 2.1 percent, according to Gartner's preliminary data for the fourth quarter of 2012. Apple is believed to have shipped more than 2.1 million Macs in the quarter, up from 2 million in the same period in 2011.
Apple's share of U.S. PC shipments also grew from 11.4 percent in the 2011 holiday shopping season to 12.3 percent in the same period in 2012.
Gartner's numbers contradict data from IDC, issued last Thursday, which claimed that Mac shipments were actually down by 0.2 percent year over year. IDC instead claimed Apple sold about 2 million Macs, giving an 11.4 percent share of the market
Actual Mac sales for the quarter will be revealed by Apple next week, when the company will reveal earnings for the first quarter of its fiscal year 2013, which concluded in January. Analysts generally do not anticipate a big quarter for the Mac, as the company's new all-in-one iMac launched late in the quarter and remains in short supply.
One thing both Gartner and IDC do agree on is that the PC market as a whole is doing worse than Apple. Last week IDC said U.S. PC shipments were off 4.5 percent, while Gartner said holiday PC shipments in America slid 2.1 percent from the same period in 2011.
Both Gartner and IDC only give specific data for the top five PC vendors, divided into shipments for the U.S. only as well as abroad. Apple does not crack the top five worldwide PC vendors, so neither Gartner nor IDC offered projections on the company's total shipments for the quarter.
As a result, neither company's estimates account for what is a growing share of international PC sales for Apple. Analyst Maynard Um with Wells Fargo noted last Friday, in response to the IDC figures, that APple's international share of PC sales is growing faster than its U.S.-based Mac business.
Gartner's preliminary U.S. data shows HP as the top company in the U.S., with shipments of 4.7 million computers giving it a 26.6 percent share of the market. HP's sales are believed to be up 12.6 percent year over year, according to Gartner.
In second was Dell, with a 19.2 percent share from shipments of 3.4 million PCs. Its shipments were off 16.5 percent from the holiday shopping season of 2011.
Apple came in third in Gartner's rankings, followed by Lenovo, which took an estimated 8.4 percent slice of the U.S. market on shipments of 1.4 million units — up 9.7 percent year over year. Finally, in fifth was Acer, which saw its shipments slide 21.6 percent to 1.4 million, giving it 7.9 percent of the market.
Worldwide, HP was also the top PC vendor, though its global growth was actually down 0.5 percent year over year, according to Gartner. The only vendors in the top five to see growth were second-place Lenovo, up 8.2 percent, and fifth-place Asus, up 6.4 percent.
Dell, which ranked third worldwide, saw its PC shipments tumble 20.9 percent in the holiday quarter. And fourth-place Acer also saw an 11 percent drop in shipments.
"Tablets have dramatically changed the device landscape for PCs, not so much by 'cannibalizing' PC sales, but by causing PC users to shift consumption to tablets rather than replacing older PCs," said Mikako Kitagawa, principal analyst at Gartner. "Whereas as once we imagined a world in which individual users would have both a PC and a tablet as personal devices, we increasingly suspect that most individuals will shift consumption activity to a personal tablet, and perform creative and administrative tasks on a shared PC.
"There will be some individuals who retain both, but we believe they will be exception and not the norm. Therefore, we hypothesize that buyers will not replace secondary PCs in the household, instead allowing them to age out and shifting consumption to a tablet."