Sprint's 4G LTE network expanding to 28 more cities in coming months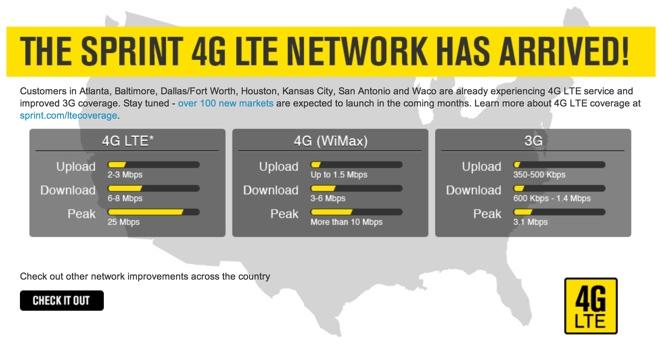 U.S. carrier Sprint announced Thursday that its 4G LTE network, which offers faster connections to the iPhone 5 and Apple's latest iPads, will expand to 28 new cities in the coming months.
The continuing deployment is part of Sprint's Network Vision strategy, in which the company will consolidate multiple network technologies into one new, seamless network.
The goal, Sprint said, is to increase efficiency and enhance network coverage, call quality and data speeds for customers across the U.S.
"We're committed to providing improved 3G and 4G LTE as quickly as possible, and keeping our customers informed as to when and where they can experience the new network's superior performance and speed," said Bob Azzi, senior vice president-Network, Sprint. "Our customers depend on their mobile devices as their primary source of communication, business connectivity and entertainment. We're delivering all of that functionality at a very competitive price."
The full list of markets that will gain access to Sprint 4G LTE follows:
Albany, Ga.
Anderson, S.C.
Bay City, Mich
Branson, Mo.
Bremerton/Silverdale, Wash.
Columbus, Ga.
Columbus, Miss.
Decatur, Ala.
Florence/Muscle Shoals, Ala.
Gadsden, Ala.
Gaffney, S.C.
Gettysburg, Pa.
Glasgow, Ky.
Homosassa Springs, Fla.
Hot Springs, Ark.
Lake City, Fla.
Lake Havasu City/Kingman, Ariz.
Midland, Mich.
Nacogdoches, Tex.
Opelousas/Eunice, La.
Oxford, Miss.
Paris, Tex.
Pittsfield, Mass.
Saginaw, Mich.
Spartanburg, S.C.
The Villages, Fla.
Waycross, Ga.
Winona, Minn.
During the pre-launch phase, customers of Sprint with compatible 4G LTE devices, like Apple's iPhone 5, may begin to see coverage. Customers are welcome to use the network before it officially launches.
Sprint promises that customers on its LTE network will see enhanced call quality and better performance. 4G LTE allows for significantly improved data speeds, which will enhance browsing the Web, streaming music or video, and downloading applications from the App Store.
Sprint has already announced nearly 200 markets where Sprint 4G LTE is on its way, including Boston; Charlotte, N.C.; Indianapolis; Los Angeles; Memphis, Tenn.; Miami; Nashville, Tenn.; New Orleans; New York; Philadelphia; and Washington, D.C. The carrier announced plans to expand its LTE network in 100 new cities in September.