Apple invention adjusts display brightness according to on-screen content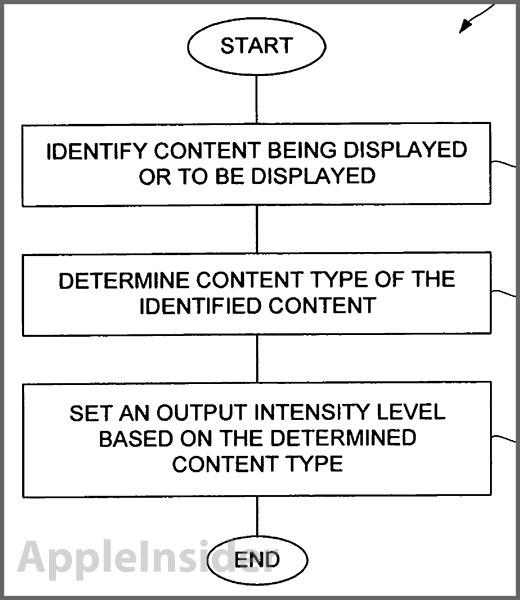 A patent discovered on Tuesday outlines a system in which displays like the iPhone and iPad's Retina panels are automatically dimmed based on what type of content is showing on screen, allowing for portable devices to conserve precious energy.
The U.S. Patent and Trademark Office awarded Apple's patent No. 8,358,273 for a "Portable media device with power-managed display," which describes a unique method of adjusting the intensity (brightness) of a device's screen depending on what is being displayed.
Other techniques like photosensor-based display controls have been in use for years, but Apple's method goes further by managing display brightness based on the monitoring of actual content. Currently, devices may auto-dim in dark-lit rooms or when they haven't been used for a set amount of time. With the '273 patent, both the type and characteristics of displayed content is taken into consideration, allowing for further refinement of auto-dimming procedures that could translate to power savings.
The method relies on identifying the type of content being displayed and setting an output intensity for the display device based on either a predetermined configuration or a set of user preferences. Content types are described as images, photos or video, among others.
After determining what type of content is on a device's screen, the system then takes into account the characteristics of said content. For example, if a light image is being displayed, the brightness may be lowered. This process becomes more complex for video content, which must be monitored frame by frame and weighted by metrics like contrast, darkness, lightness and color. In some embodiments, the system may sample at stepped intervals like every 10 frames to keep brightness consistent throughout viewing.
The management system offers users more control over screen auto-dimming by allowing a set of preferences to override automatic controls. An example user-configurable setting could be "Brightness Mode," which would act much like a modern HDTV to provide levels of brightness referenced by the control module.
It is unclear how much processing power the system would require, though there are various embodiments that leverage software, hardware or a combination of the two to achieve the desired results.
The patent is credited to Andrew Bert Hodge, Guy Bar-Nahum, Shawn R. Gettemy and David John Tupman.