Apple stock drops over 10% in after-hours trading during Q1 earnings call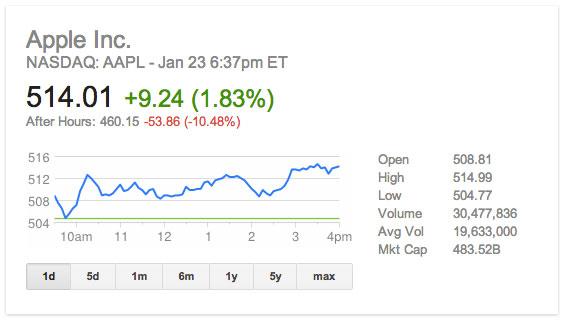 Despite posting a profit of more than $13 billion on record first quarter revenue of $54.5 billion, shares of Apple bled more than 10% of their value in after-hour trading on Wednesday as investors — spooked by a hard miss on Mac sales and lack of earnings growth — ran for cover.
The precipitous decline followed a positive day of trading, and saw shares slowly shed roughly $50 of their value as chief executive Tim Cook spoke during Apple's ensuing conference call. As of press time, shares were trading down 9.83% to $463.49.
While Apple surpassed expectations on revenues of $54.5 billion, the company missed consensus estimates for Mac unit sales by almost a million units, or 20 percent. It also reported 47.8 million iPhone sales, a couple million less than analysts had been expecting.
In total, skittish investors shaved $50 billion in market capitalization from Apple, a figure that equates to the total market capitalization of several other prominent tech companies. As of press time, Apple's market cap is sitting at roughly $474 billion.
Adding to investors' worries was Apple Chief Financial Officer Peter Oppenheimer's announcement that future guidance would be modified to a more realistic model, a departure from past guidance considered by some to be overly conservative.
When asked about how the new guidance would be presented, Oppenheimer said an earnings range will take the place of Apple's traditional "single point estimate" of guidance that reflected a specific number. The new protocol will likely do away with huge earnings estimate beats.
"This quarter and going forward, we're going to provide a range of guidance that we believe we are likely to report within," Oppenheimer said. "No guarantees — forecasting is difficult — but we believe that we will report within that range."