Nearly one third of Apple's market value is backed by pure cash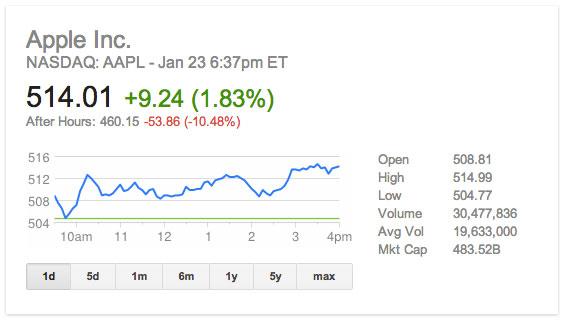 An after-hours sell off of Apple shares resulted in the company's effective market capitalization falling to $436 billion, just over three times the size of its growing cash reserves, now worth $137 billion.
The bizarre turn, which occured after standard trading stopped on Thursday as Apple presented earnings, means that until trading resumes on Friday, the market has determined that Apple's operations, brand and all associated goodwill are worth just $299 billion, or $318 per outstanding share after considering its staggering cash position.
Justifying the temporary selloff, a series of reports described Apple's earnings as "flat," because while revenues were up, its reported profits were the same as the winter quarter of last year. However, as Apple's executives repeatedly pointed out, both back then and today, last year's winter quarter was a full week longer than this year's.
Comparing the two winter quarters' results over equal time periods of 13 weeks, Apple's revenues were up 25 percent and its earnings were up 13.5 percent over the year ago quarter.
Apple has also been criticized for failing to sufficiently "innovate," although it appears the performance of company's record winter quarter was held back in large part because it was innovating so rapidly that it struggled to produce enough of the devices in its completely refreshed product lines to meet demand.
Apple's chief executive Tim Cook noted that supplies the new iPhone 5 and iPad mini remained constrained throughout the quarter. Additionally, Apple's thin new iMac design, unveiled uncharacteristically late in the year, was not available for purchase at all until late November, while supplies of its higher end model were held up into December.
The company's depressed share price was bantered around as "the beginning of the end" of Apple by a variety of pundits who both decried Apple's supposed lack of innovation (but who also failed to see any promise in the iPad when it was originally released, or alternatively needled the company for not jumping on the bandwagon of building a low cost netbook), but Apple itself stands to benefit from discounted shares as it executes plans to buy back billions of its own shares to make up for stock based compensation being offered to attract new hires and retain existing talent.