Apple secures 48 new patents, including inductive charging, in-cell touch panel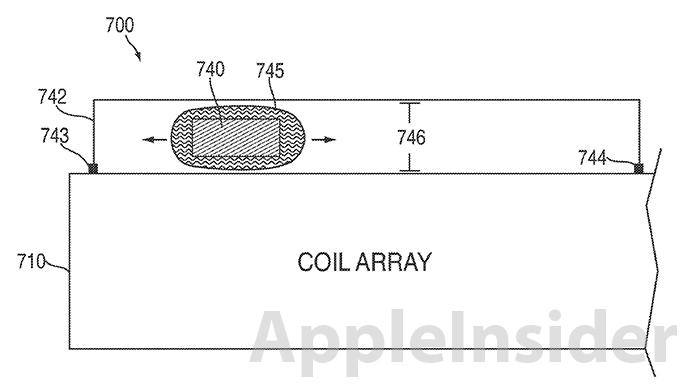 AppleInsider may earn an affiliate commission on purchases made through links on our site.
The United States Patent and Trademark office published 48 newly granted Apple patents on Tuesday, covering technologies ranging from inductive charging to bike-integrated iPods, as well as one property covering the touchscreen technology that enables the latest iOS devices to achieve their current slimness.
The patents granted today involve components and design elements for virtually all of Apple's product offerings.
Inductive charging using printed coils
This patent, filed for in June of 2012, describes systems "for harnessing power through electromagnetic induction utilizing printed coils." Apple's U.S. Patent No. 8,362,751 calls for one or more moveable magnets that, when traveling along the path of the printed coils, can power a device.
AppleInsider was first to report on the '751 patent's application in September of 2012, noting that the IP could one day lead to "shake to charge" portable devices. The technology is akin to shake to charge flashlights that use induction to produce electric current which is stored in capacitors for later use. This type of system eschews the need for bulky batteries that must be plugged in for charging or replaced when depleted.
A similar technology is used in rival devices — including the Google-LG-produced Nexus 4 and Nokia's Lumia line of Windows Phone 8 handsets — which integrate inductive charging systems that use a wall charger to recharge built-in batteries, thus doing away with pesky electrical cords. Apple has yet to bring a competing technology to market. Prior to the release of the iPhone 5, rumors circulated that Apple would bring wireless charging to bear in that handset, but Apple marketing exec Phil Schiller said after the unveiling that the perceived convenience of such systems was questionable, since charging mats would still need to be plugged into an outlet.
In September, an Apple patent application emerged demonstrating a "realistic and practical approach to wireless power, providing over-the-air electricity to low-power devices within a distance of one meter.
Integrated touchscreen
Apple also was granted a patent on a design for "displays with touch sensing circuitry integrated into the display pixel stackup." This is a continuation of the in-cell touchscreen patent, granted in July of 2012, which made an appearance in the iPhone 5. The in-cell touch panel technology allows Apple to make its devices noticeably thinner, but initial yield rates for the panels were problematic, and Apple is said to be evaluating a newer technology using "touch-on" displays, averting some of the problems that came with in-cell touch panels.
Notably, the patent granted today gives a mobile phone, a media player, and a notebook computer as examples of where the technology could be implemented. Tim Cook famously dismissed touch-enabled PC form factors, saying they were like "[converging] a toaster and a refrigerator."
Integrating a portable electronic device with a bicycle
Also among the patents Apple secured today was a design for interfacing an electronic device with a bicycle. In the filing, the device receives output from sensors coupled to the bicycle, displaying riding characteristics and even communicating with other devices in order to allow cyclists to ride as a team and assist each other.
The application for the patent originally emerged in 2010. Technology such as that seen in the patent has yet to materialize in any Apple products, but it is in keeping with other fitness-related offerings, such as the Nike+ compatibility seen in iPods and iPhones.
Tuesday's patent haul covers many other technologies, including motion-based payment confirmation, beamforming antenna systems, device cooling mechanisms, and more. Among companies worldwide, Apple in 2012 ranked 21st for the total number of patents granted in 2012. Last year saw the Cupertino company granted 1,135 patents, just behind Google, which secured 1,151 patents.