Apple says new Apple TV isn't redesigned, just features minor tweaks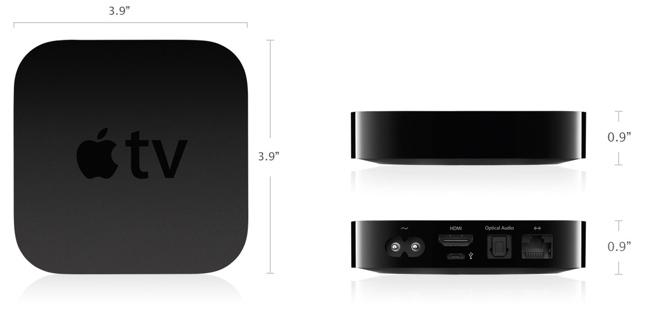 Despite details from a new FCC filing suggesting an updated Apple TV would feature a smaller form factor, Apple has indicated that the slightly tweaked hardware will look and function just like the current model.
Apple provided a statement to The Verge on Wednesday in which the company downplayed speculation that a new Apple TV with a new look and experience may be forthcoming. Instead, Apple said the newly approved model is just a minor upgrade to the existing hardware.
"We sometimes make component changes which require an updated model number for regulatory approval," the company said. "The component changes we made don't affect product features and Apple TV customers will continue to have the same great user experience."
The statement comes less than a day after the U.S. Federal Communications Commission revealed an unannounced Apple TV model identified as "A1469." The filing suggested the unit's design would be slightly smaller, shrinking from 98 millimeters to 93.78 millimeters square.
The filing also revealed that the new hardware would feature a low-power 40-nanometer Broadcom wireless chip identified as BCM4334. That's the same chip already found in Apple's iPhone 5, offering both Bluetooth and Wi-Fi connectivity.
But the comments from Apple reveal any changes to the hardware will not be noticeable to end users. Evidence has suggested the new Apple TV will feature a faster A5X chip, similar to the one the company used in its third-generation iPad.
It's possible that Apple could be making the silent switch to an A5X chip in an effort to gradually ramp up production of the processor for another, more popular device. A strong candidate would be the iPad mini, which rumors have suggested will receive a high-resolution Retina display with a second-generation update later this year.
Apple used a similar approach last year when it launched the current Apple TV, a product update that added 1080p video support thanks to a shrunken A5 chip that uses the 32-nanometer manufacturing process. That same 32-nanometer chip was also placed inside the $399 iPad 2 — a device that was previously powered by a 45-nanometer A5 chip. The new hardware, identified as "iPad2,4", saw battery life improved by as much as 16 percent thanks to the design change.
This week Apple also issued a software update for an unannounced Apple TV model. The name "AppleTV3,2" implied that the updated hardware would be a minor revision from the current 1080p-capable set-top box, which is identified in software as "AppleTV3,1".