iPad mini ship times improve to 1-3 days in U.S. Online Apple Store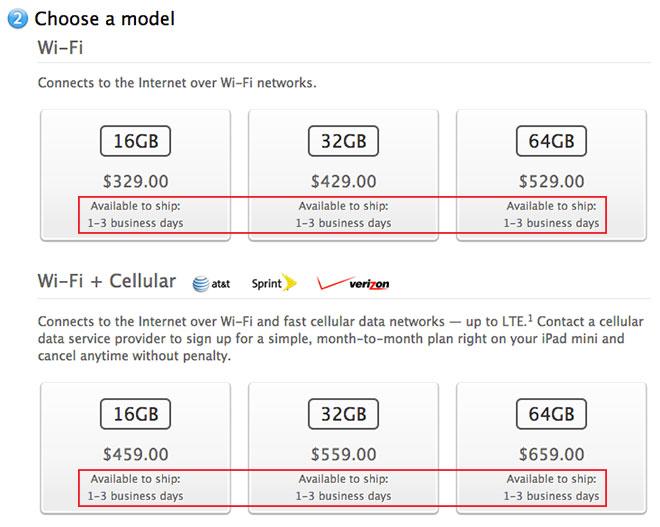 In an update to its U.S. online storefront on Sunday, Apple is now showing ship times of the popular iPad mini stand at 1-3 business days, down from the 3-5 days quoted late last month.
The new ship-by times suggest Apple may finally be overcoming the severe supply constraints seen shortly after the 7.9-inch tablet launched in November and continued throughout the lucrative holiday quarter.
Apple saw high demand for the device when pre-orders went live at the end of October, with the U.S. store selling out of the White & Silver model in a matter of hours. The company later announced that the iPad mini sold three million units over its first weekend on sale.
Chief executive Tim Cook said in the company's quarterly earnings conference call for the first fiscal quarter of 2013 that suppliers were having trouble meeting demand, but estimated a balance could be reached by the end of the March quarter. Sunday's new shipment estimates suggest supply is catching up to demand.
At the end of January, the ship-by time for all models, including the Wi-Fi + Cellular versions, was quoted at 3-5 days, which itself was an improvement from the one-week estimates seen in December.