Vine app gets 17+ age rating with latest update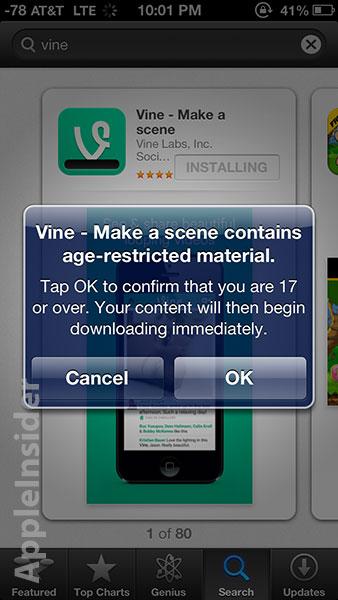 AppleInsider is supported by its audience and may earn commission as an Amazon Associate and affiliate partner on qualifying purchases. These affiliate partnerships do not influence our editorial content.
Twitter-owned video sharing app Vine was updated early Wednesday, bringing in-app Twitter and Facebook sharing as well as an age rating for possible adult content.
Vine has been at the center of a small App Store controversy since the end of last month, when a hardcore pornographic clip was promoted as an "Editor's Pick" shortly after the app launched on Jan. 24. The title was subsequently stripped of an App Store Editors' Choice honor and pulled from the online market's Featured section.
Share to Twitter or Facebook after posting. Find the post you want to share, then tap the "..." button in the bottom right.
Report or block a profile. Go to the profile, then tap the newly added "..." button in the top right.
Fixed an issue that caused a black screen to appear and uploads to fail after creating a video on certain devices
Miscellaneous bug fixes
Apple's treatment of Vine brought into question the App Store's guidelines as popular photo sharing app 500px was yanked just days before Vine's offense over concerns of nude images and complaints of child pornography. Less than a week later, with Vine still available for download without a 17+ rating, 500px was allowed back on the store with an adult content pop-up warning and changes for reporting unsavory photos.
Amidst the confusion, App Store stalwart Tumblr quietly pushed out an update warning users that adult content can be accessed through the app. It is unknown whether Tumblr was asked to institute the rating by Apple, or did so in light of the somewhat negative media attention 500px and Vine generated with their respective issues.