Apple's 'disappointing' quarter still outperforms the most profitable US companies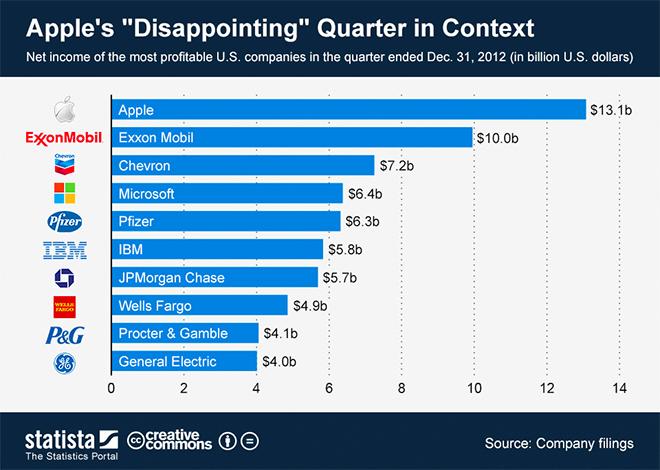 Even after a quarter widely panned on Wall Street as "flat" or "disappointing," Apple holds the top spot among the most profitable U.S. companies by a significant margin.
The $13.1 billion in profit Apple posted for the first quarter of 2013 is the most profitable quarter for a tech company in history, just edging out the record $13.06 billion set in the first quarter of 2013 — also by Apple.
A comparison of Apple's record quarter to those of the other most profitable companies in the United States shows Apple head and shoulders above its American peers. Apple's $13.1 billion in profit is 31 percent more than the $10 billion of its closest competitor, oil giant ExxonMobil, which briefly surpassed Apple in market cap following investors' negative reactions to the most recent quarter.
As statistics portal Statista points out, the only companies to ever post a higher quarterly profit are ExxonMobil and Russian energy giant Gazprom, which posted $16.2 billion in profit for the first quarter of 2011.
Apple, once targeted for $1,000 per share, currently sits 34.7 percent below its all-time high of $700 per share. Meanwhile, it earned $100 million more in the first quarter than firms Wells Fargo, Proctor & Gamble, and General Electric combined.
In terms of technology companies, Apple earned more than twice the $6.4 billion of its nearest competitor, Redmond software giant Microsoft. Add in the $5.8 billion earned by IBM, and Apple still beats the total by nearly a billion dollars.
Apple's team remains upbeat on the company's future, despite the negative outlook of some investors. CEO Tim Cook expressed confidence in the firm's product pipeline, saying during the quarterly conference call that "we continue to focus on innovation and making the best products in the world."